Did you know that for every gift, a donor should be thanked seven times? How about that one of the main causes of retention decline is a lack of stewardship and gratitude?
Acknowledgement and gratitude are even more critical in today's fundraising environment. As rising costs and inflation impact a donor's day-to-day spending habits, many may be reassessing where they spend their dollars.
For many nonprofits, it's a lot easier to invest in stewardship for major donors—the pool is smaller and most organizations have dedicated major gift officers to help focus these efforts. But nonprofits often struggle with stewardship programs at the mass-market level.
That's where digital tools come into play.
I get it, digital can sometimes feel impersonal. But these tools were developed specifically with personalization in mind. We've been using them for many of our clients and wanted to share a few of our favorites with you!
ThankView
Video is an incredibly powerful tool for donor stewardship. In fact, nonprofits using video to thank their donors through ThankView have seen on average a 15% increase in donor retention.
With ThankView, nonprofits can build and deploy personalized videos to update and thank donors on a large scale.
I know what you may be thinking—my team doesn't have time to record personalized videos for every single donor! Have a list of 1,000 donors you need to craft a message for? Batch record for all donors with the same name, then move on to the next. Once you're done, send the video message to donors via email or text.
To make it even easier on you, ThankView has the capability to integrate with hundreds of your favorite marketing tools and CRMs.
Here's what it looks like in action:
One of our clients, SPCA of Eerie County, used this tool after donors showered their organization with support during the Betty White Challenge. The organization sent over 1,000 personalized videos via email. With a 58% open rate and a 21% click-through rate, this was an incredibly impactful way to show gratitude to their constituents.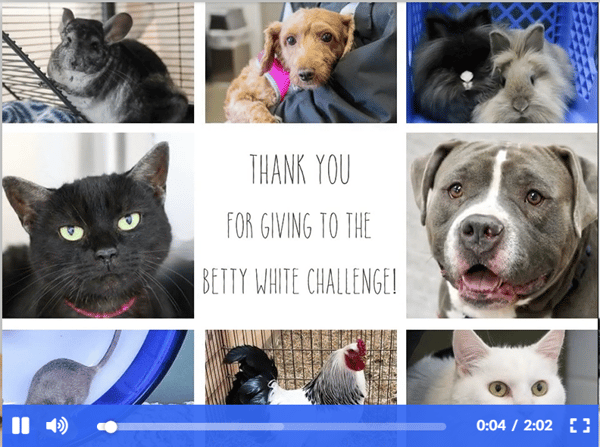 ViewSpark
While ViewSpark is another video tool, this one is a little different. With ViewSpark, you can record videos in real time to engage with your donors—for example, a Development Director at a Food Bank can send donors an exclusive walking tour of their facilities as a thank you via text message or email. Or alternatively, a snapshot of what's going on behind the scenes that week and how the donor has made that possible.
With an average ROI of 10:1+, users can leverage the "Just in Time" videos to help donors feel like they're getting an exclusive experience. You can also use pre-built lists in the ViewSpark app to quickly engage your donors while on the go. In addition, the platform has built-in reporting that can be exported and combined for omnichannel analytical views.
Check out the video below for an example of what this could look like:
RKD Connect
Looking for a more personal touch than an email or text? Use RKD Connect, powered by Nimble Connect, to make thank-you calls or send handwritten notes to donors.
Thank-you calls can be live or voice broadcasted and triggered by a gift. Callers through RKD Connect are trained on how to act like your organization's staff and volunteers—and given guidelines on how to engage with your donors.
Handwritten notes can be sent to new donors or as a gap touch for mid-to-upper tier donors. The notes, written with a live pen for handwritten font, can have a fully handwritten card and a handwritten envelope.
Our client, City Rescue Mission, recently used RKD Connect to conduct weekly thank-you calls and send handwritten thank-you cards to certain new, reactivated and current donors. The donors clearly felt welcomed and valued—one donor even sent back a handwritten note of her own! You can see just how big of an impact these thank-yous made from the responses below: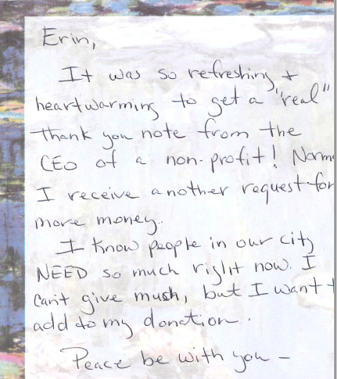 For more details on this project, check out our case study here.
Successful mass stewardship programs are all about finding relevant, efficient ways to share the impact of a donor's gift to your organization. By using digital tools for meaningful personalization, you can leave a lasting impression of gratitude with your donors without a heavy lift from your internal team.
Have questions about how these tools could work for you? Contact us today to learn more about our stewardship programs. We'd love to chat!