Reaching new donors through direct mail is becoming more and more difficult. Plus, nonprofit organizations from coast to coast are looking for ways to reach younger donors.
We're not going to dive deep into those two trends here, but when you put them together, you understand why investment in digital media has grown in the last few years. Younger donors (Gen X and Millennial) have spent most of their life online, so it makes sense to meet them where they are. It also opens up a pool of new prospects that direct mail can't reach.
My colleague Jarred Schremmer has an outstanding blog post that details the optimized media approach for moving people down the marketing funnel from prospect to donor. I'd like to focus this post more on the first part of that process: prospecting.
This is all about how you find new people to build a relationship with and invite into your mission. And—just as important—I'll share some strategies on how to do so in a cost-effective manner.
A big challenge in donor prospecting
Measuring success in prospecting can be difficult.
There's a clear performance metric in the conversion phase—when an engaged prospect gives their first gift. But it gets a little muddy when you're trying to understand how the top of the funnel is filling up. No one wants to hear, "Well, we just know it's working because people have to come from somewhere to get to the donation point."
Fortunately, there are some clear, simple metrics we can use on Facebook that allow you to see how well your prospecting strategies are working. And for programs that are just starting to invest in digital media, Facebook is an excellent place to begin.
It's true that many teens have abandoned Facebook, which has garnered a recent reputation as the social network for grandparents. But the fact is that Facebook's largest age group in the U.S. is ages 25-34, making up 23.8% of its users.
Through these prospecting strategies, you get direct, first-party data from new prospects. That makes Facebook an excellent place to start building new relationships with donors.
Find more statistics at Statista
3 strategies for prospecting on Facebook
The idea with each of these strategies is to initiate a relationship that primes a prospect for charitable giving when the time is right (like year end).
Facebook likes campaign
This one is simple: We run a campaign to encourage people to "like" your Facebook page. Once they do, they will begin to see your organic Facebook posts in their feed. As they engage with posts over time, you're creating positive touchpoints with potential donors.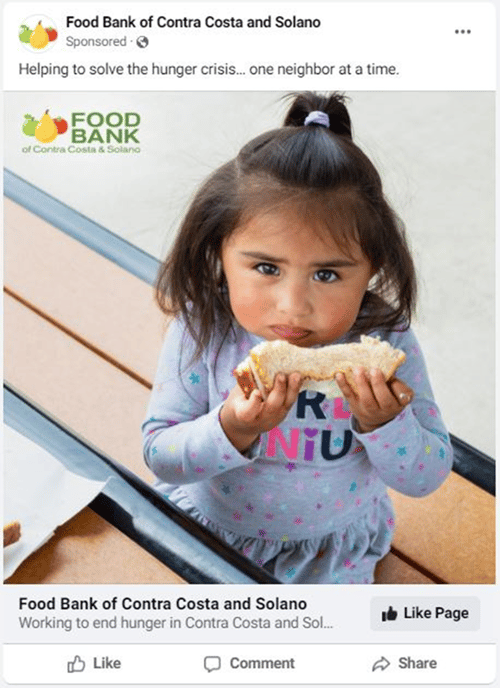 You've probably seen a sponsored post like this one from Food Bank of Contra Costa and Solano in your Facebook feed. It introduces the organization and invites the user to click the "Like Page" button.
Facebook lead-gen ad
The idea here is to offer something of value—an online recipe book, stickers, etc.—in exchange for the prospect's email address. Quizzes and surveys also do well for lead gen by engaging people in an area of interest.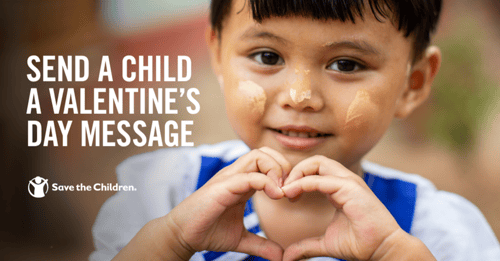 Save the Children centered a lead-generation campaign around the Valentine's Day holiday and focused on sending love to children in need. Donors were asked to write a Valentine's message to children and received a special self-love kit in exchange for their email address.
Facebook video campaign
Video is a great engagement tactic across the board because it allows you to tell your story and convey your mission in a much deeper way than a static image. Facebook video allows you to build a custom audience from video viewers, which provides a concrete metric in prospecting.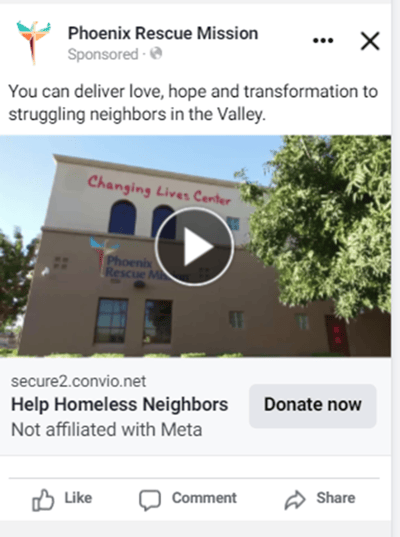 The example above for Phoenix Rescue Mission shows how a video campaign appears in the Facebook feed. The "Donate now" button is there for those who are ready, but the video will autoplay as the user scrolls.
Each strategy is a simple entry point for the user experience—you click a button to like, you type in an email address or you watch an autoplay video. And each gives you a clear metric for success: likes, email addresses and video engagements.
As an added bonus, all three strategies keep the engagement within Facebook, so you don't need to send people to a landing page. Anytime you can remove barriers for people, it helps boost your results.
Once you have these easy strategies in place, you can begin to add more sophisticated tactics like connected TV, digital radio and native ads. This allows you to increase your reach and your depth of engagement with prospects.
The more you pour into your funnel, the more you get in the end!