For the last few months, the nonprofit community has been experiencing a sharp increase in demand for aid while also dealing with the stress of a looming global recession due to COVID-19.
While organizations like food banks and hospitals saw an early rise in donations in response, many are still looking for ways to raise additional funds to replace lost event revenue.
Then, #GivingTuesday organizers announced the creation of a new global day of giving on May 5, 2020, called #GivingTuesdayNow (GTN) to celebrate generosity and serve as a call to donors to support their local charities.
Because the coronavirus pandemic is unprecedented in its scope and impact, and a second Giving Tuesday has never been done before, there was some uncertainty around the results we would see.
Are donors reaching the point of fatigue? Will organizations like food banks – who have been sending weekly emails – see their response decline?
From the numbers we've gathered for our 40-plus digital clients who participated, the answer to both of those questions is a resounding no.
Here's how GTN and COVID giving are continuing to exceed all of our expectations:
A MULTICHANNEL DIGITAL APPROACH
RKD Digital created GTN multichannel campaigns that included emails, lightboxes, social content and paid media ads.
Our team created messaging that went out before GTN to educate donors about the day and bring in early donations.
On the day of, emails went out throughout the day with urgent calls to action.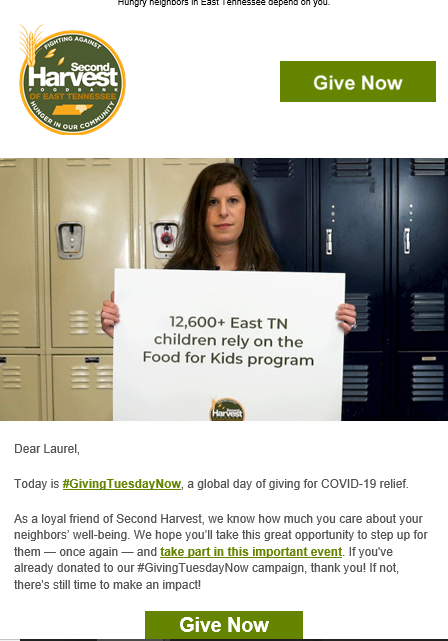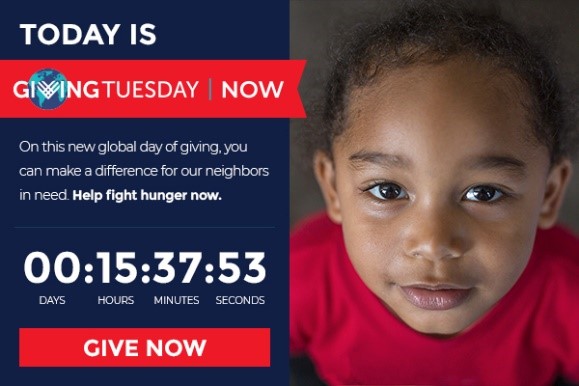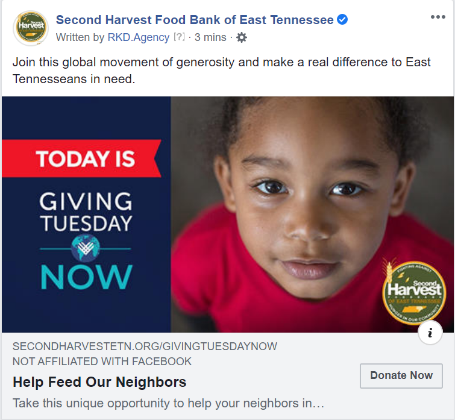 Some of the most successful GTN campaigns came from food banks, who continue to serve on the front lines of the pandemic.For 18 of our food bank clients, donations totaled more than $2.6 million.Overall, for our 40-plus digital clients who participated in GTN, revenue totaled more than $3.2 million from over 19,000 donations.
Second Harvest East Tennessee, who normally run their annual MayDay campaign during this time, quickly pivoted to replace that messaging with GTN. This campaign raised almost triple the revenue that their MayDay campaign historically raises.
They were not alone. Food Bank For New York City, which has been seeing record-breaking fundraising since the start of this pandemic, also saw their largest day of giving in the organization's history.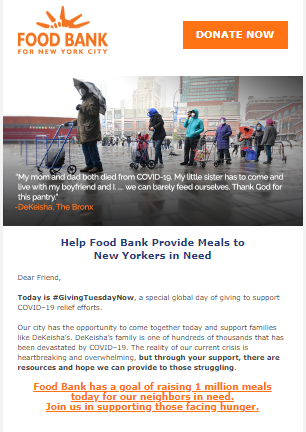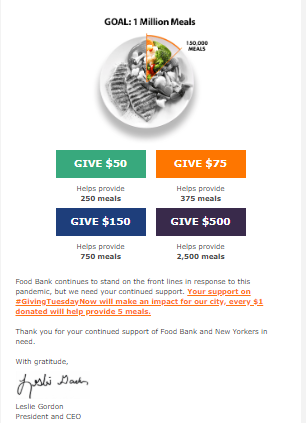 Many other nonprofits also saw an amazing community response, including St. Mary's Food Bank, whose GTN totals exceeded their revenue from #GivingTuesday in 2019.
Connecticut Food Bank launched GTN messaging on the heels of a $1 million month in April. RKD worked with them to launch a $50,000 triple-match campaign that was reached in only a couple of hours. GTN generated over $220,000 for them in a single day!
PARTICIPATION IN REGIONAL GIVING DAY CAMPAIGNS
North Texas Food Bank, SPCA of Texas and the Humane Society of Missouri took a different strategy on GTN. They joined forces with other organizations for larger, regional giving day campaigns. All three saw great success.
But perhaps the most heartwarming part of this was some of the comments donors shared with their donations to North Texas Food Bank. Donations were made in honor of anniversaries, birthdays and loved ones. One donor even said they were donating their entire stimulus check.
So what did we learn from all of this?
Not only is it encouraging that disaster donors are continuing to give to support their local organizations, but it shows that many donors are not yet fatigued from COVID-19 messaging.
It also shows how global – or even local – giving days have the power to bring the community together in support of charitable missions closest to the donor's heart.