As we move into a "post-pandemic" era, the nonprofit industry is facing yet another challenge: A global supply chain crisis.
And it's not just nonprofits; supply chain issues can be felt everywhere, from large corporations down to the aisles of our grocery stores.
To help navigate this challenging time, we're dedicating Season 7 of our Groupthinkers podcast to the supply chain. Throughout these next few episodes, we'll sit down with industry leaders, production experts and economists to better understand how the supply chain crisis is impacting nonprofits and the strategies they can use to work through it.
In the first episode of our supply chain season, we sit down with RKD Group CEO Tim Kersten to discuss how nonprofits should respond to the supply chain's impact on direct mail. Tune in as Tim shares:
A brief overview of the supply chain crisis
Why now isn't the time to panic
How nonprofits should respond
Meet our guest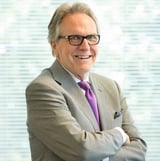 Tim Kersten
RKD Group
CEO
"The sky is not falling, but for some the sky is a bit cloudier than we would prefer. It just depends on where you're sitting, how big your organization is, what the nature of your communication plan is and so forth. So, there's a lot of variability within that."
Listen now
Want more?
Groupthinkers is the podcast for RKD Group. This is a must-listen experience of thought-provoking content that inspires insight on the industry and strategic decisions. Groupthinkers brings together innovators and curators in nonprofit marketing, branding and direct response to tackle the major issues facing nonprofits today. Be sure to tune in for Season 7, as we drop new episodes throughout the coming months.