If you work in the nonprofit world, you've no doubt felt the buzz surrounding digital fundraising as a game changer for year-end giving. However, the tried-and-true method of direct mail still works extremely well, and we strongly advocate implementing both as part of a multichannel approach to fundraising.
Offline giving made up 91.5% of total fundraising in 2018, according to the Blackbaud Institute. That means the direct mail strategy you're putting into place right now will have a huge effect on year-end giving when it comes to key metrics like revenue and donor acquisition and retention.
And while there are countless other authors out there with countless other suggestions for the "best" ways to reach donors and make a connection this year-end giving season, we decided to try something a little different. Instead of just talking the talk about what you should do in your direct mail fundraising strategies, we thought we'd walk the walk and showcase five strategies that have actually worked for our clients.
Let's take a look:
1. Connect through personalization
Every good marketer knows the value of personalization, but it's even more crucial to form a connection when it comes to fundraising. As we discovered in our year-end giving study with McQueen Mackin & Associates, donors who gave less reported feeling less connected to an organization and less motivated by their appeals.
The Inland Valley Humane Society & SPCA was looking for a boost to its declining response rate, and we decided to test their current "Partner & Supporter" package against a membership theme they had previously used. Addressing donors with a more inclusive "Member" message and including a membership card may seem like an insignificant change, but it led to a 44% higher overall donor response, a $45.93 average gift and a 54.6% higher net per donor, year-over-year (YOY).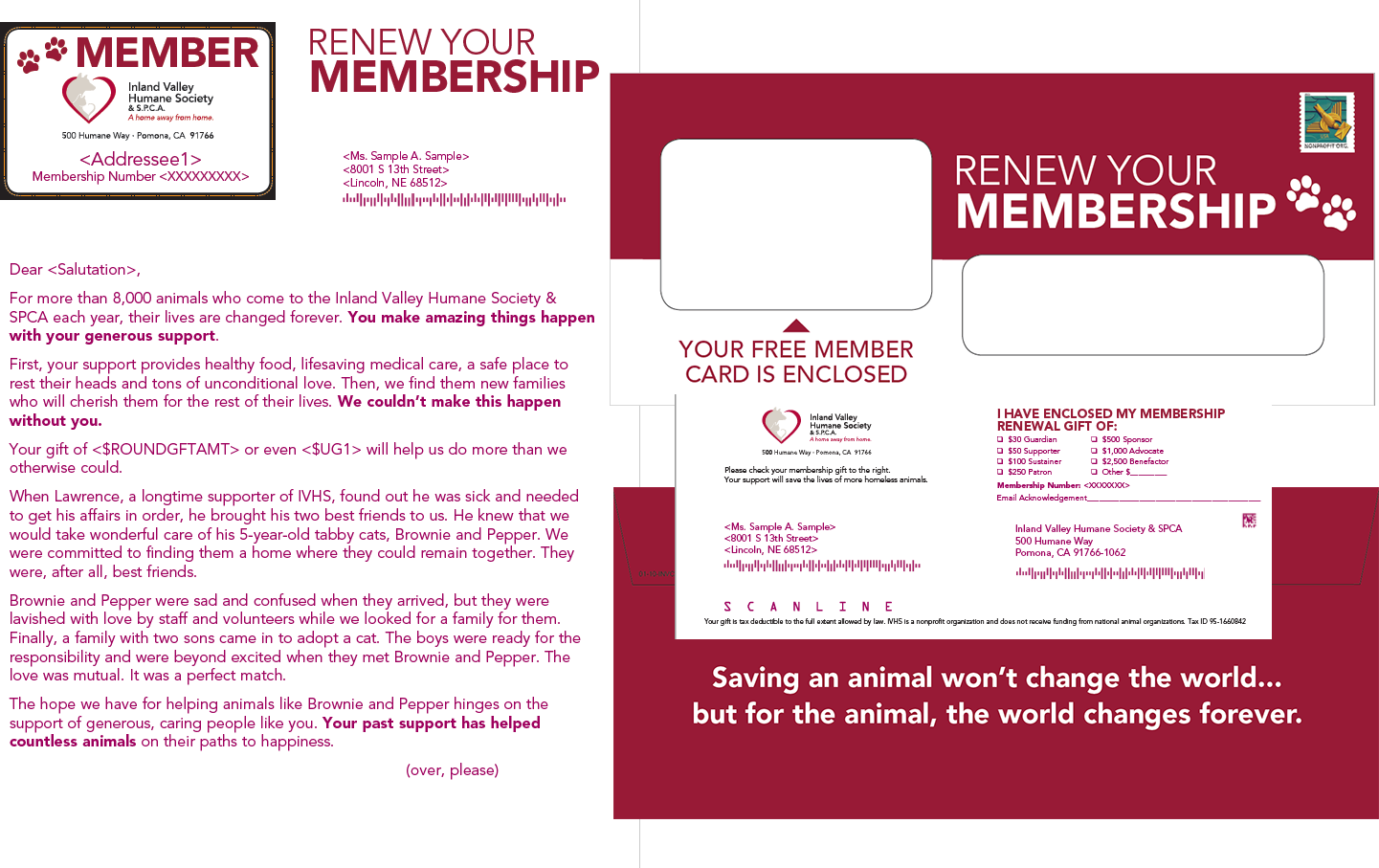 Another great example of personalization comes from the Food Bank for New York City. RKD not only personalized the outer envelope, letter and reply slip with the donor's name and info, but we also segmented donors into the five boroughs of New York: Bronx, Manhattan, Brooklyn, Queens and Staten Island. This created a personal connection between the donor and the people in their area they could potentially help. This campaign brought in 543 gifts, with a revenue of $34,508.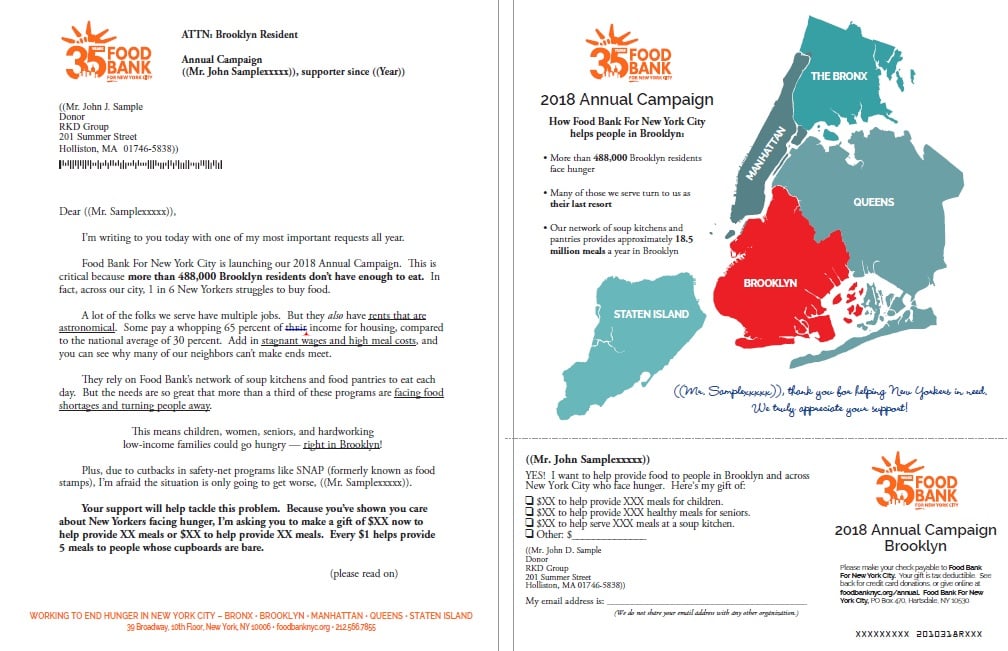 When The Salvation Army's Sierra Del Mar Division was looking to increase its mid-level donor giving, RKD created a high-touch package that looked like it was personally assembled for the donor – including a "handwritten" address on the outside, and photos of kids, a child's artwork, and a personal note paper-clipped together inside. The results were remarkable, as their direct mail campaign saw a net revenue increase of 99.98% YOY and an average gift amount increase of $67.31.
2. Steward your donors
Sure, you probably have a list of current and former donors, and you send out different messages to these two groups. But are you using data and analytics to help steward your donors into a second gift?
As we saw above, The Salvation Army's Sierra Del Mar Division combined the strategies of personalization and stewardship, which are crucial to a fundraising program, to meet their goal of more revenue through mid-level donors.. The enhanced direct mail package brought in 69 gifts of $1,000 or more.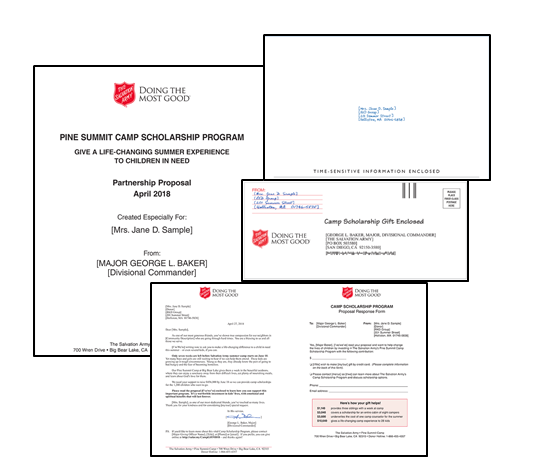 When the Children's Hospital of Philadelphia needed a way to funnel more donors into a higher-level donor pool, our analysis showed a need for a new segmentation practice. We developed new donor models and targeted those that were most profitable to the program with direct mail appeals. As a result, the hospital was able to generate $230,000 in net revenue with an average gift size of $1,298.
But what if your donor base is shrinking? It may be time to adjust your approach to donor reactivation. When the Vietnam Veterans Memorial Fund was looking to reactivate lapsed donors, RKD developed two lapsed models to identify the best candidates for giving – one for recently lapsed donors and the other for deeply lapsed. We tested against the control, and the strategy resulted in a 91% increase in reactivated donors.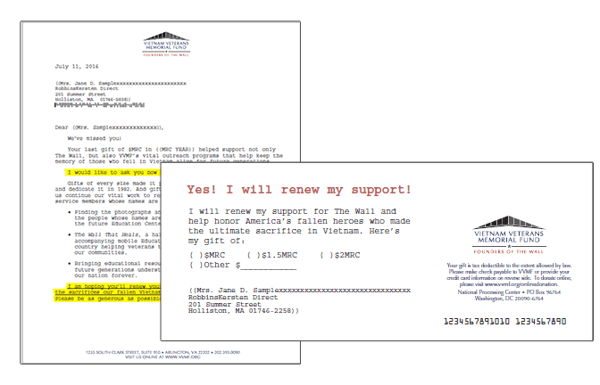 3. Create a sense of urgency
Once you've made a strong connection to donors, it's important to express the need your organization has for year-end donations. A great way to do this is to create a sense of urgency as Dec. 31 approaches.
Since 2010, the Coast Guard Foundation has been mailing a year-end appeal at the end of November. In 2018, RKD tested a new package with a yellow window outside envelope with "URGENT" on the front. Inside was a yellow form with copy stressing that 'there are only five weeks until the end of the year, and we still need to raise $275,000 to reach our 2018 fundraising goal.' The "urgent" package was the clear test winner in all donor groups, providing a 28% lift in response, which led to 27% more gross revenue and 37% more net revenue.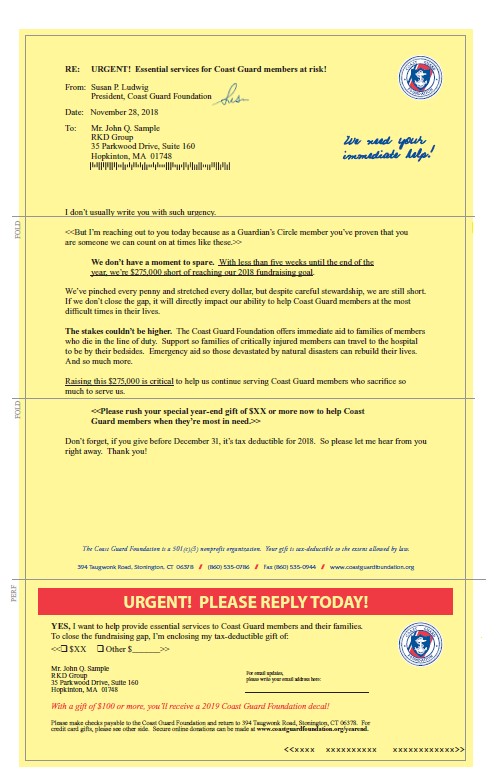 4. Implement matching offers
Matching offers have always been a huge benefit for fundraising across any channel as donors feel like they're getting two (or three or four) donations for the price of one. Reach out to one of your major donors or find a local corporate sponsor for your year-end giving direct mail campaign, and watch the donations come pouring in.
When the American Bible Society was concerned about the lapse of 25,000 core donors, RKD implemented a matching offer through a direct mail appeal (as well as a landing page for online donors). The effort engaged 1,800 donors at a donor value of $138 apiece and prevented them from lapsing.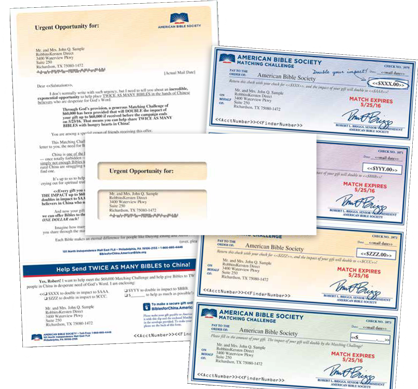 In fact, the American Bible Society has seen great success in a variety of direct mail strategies, including triple match campaigns – an area in which we're seeing more and more success lately. For year-end in 2018, we tested a "triple it" matching offer against a double-match control package. The result was a 14% increase in response rate, 6% increase in average gift and 27% increase in net revenue for the triple-match package. We will be rolling out the "triple it" language to all donors in 2019.
5. Think multichannel
Direct mail doesn't need to end at the mailbox. As digital and online fundraising grow in prominence, it's crucial to coordinate all your efforts into one multichannel strategy.
St. Labre Indian School has been mailing a year-end matching gift offer in December since 2012. This successful strategy increased gross revenue by 157% when the match offer was added. In 2018, RKD designed a test outside envelope that did not mention the match, but teased an important message inside. The direct mail results provided great success, with an increase in response resulting in greater gross and net revenue. This is now the new control treatment for 2019.
In coordination with the direct mail matching offer, our team worked to spark a sense of urgency for the donor on digital and media creative. The matching gift opportunity was made prominent in both emails and on a homepage lightbox. This multichannel strategy was a huge success as the direct mail and digital campaigns combined for a 10% increase over the previous year's direct mail campaign.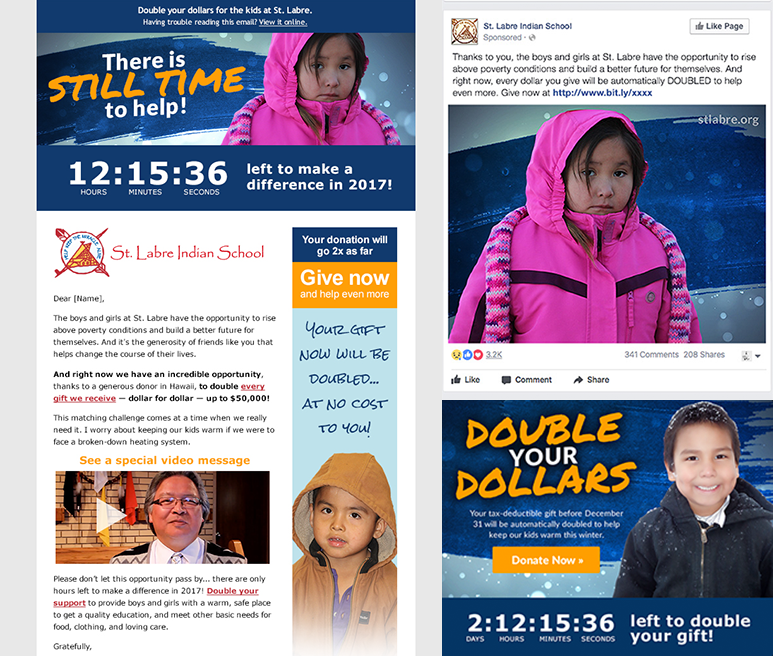 A similar multichannel approach boosted the direct mail campaign for Lurie Children's Hospital, which initially aimed to acquire more new donors via email. The success of the email program sparked the idea to test a similar concept in a direct mail campaign, which also included a specific URL for donors who wanted to give online. Again, both digital and direct mail saw the benefits of the coordinated approach, with direct mail response rates improving 1.56% and a 13% increase in net revenue per donor.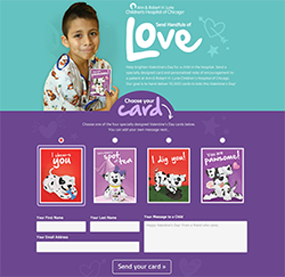 Conclusion
Time may be running out, but you can still implement effective year-end giving direct mail strategies that can boost revenue, as well as donor acquisition and retention. As you can see from above, these aren't just talking points – these strategies actually work.
Act now to ensure that November and December are a fundraising success for your organization.