We can all agree that 2020 has been a challenging year on many levels for nonprofits. But how you view fundraising during the COVID-19 pandemic largely depends on your nonprofit organization.
Food banks, whose missions are tied directly to front-line efforts of relief, have seen a record surge in giving. These donations have been crucial as food banks have also seen a surge in need and a reduction in volunteers.
The rise in donations to food banks seems like common sense – people want to give where they can help the most – and now we have some hard data to back it up. We can use these results, along with some knowledge of history and trends, to determine what food banks can do to prepare for the second half of 2020.
INSIDE THE NUMBERS
We've taken a look at the first-quarter charitable giving numbers for 75 food banks all across the United States.
Overall revenue for January through March is up a staggering 44.3% year over year (YOY). Active donors are up 34.3% compared to the same time period in 2019 – which was a strong year for food banks, according to our annual benchmarks.
When we look at donor revenue by month, it's clear that March made the difference: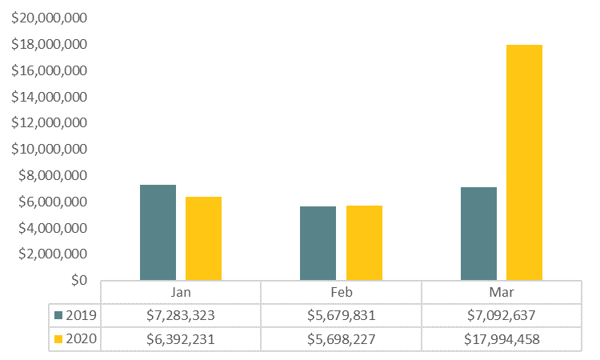 That's not surprising as the World Health Organization declared the novel coronavirus a global pandemic on March 11, and the United States declared a national emergency on March 13. When we look at a daily comparison for food banks in March, the big jump in revenue starts March 16 – the Monday following those announcements: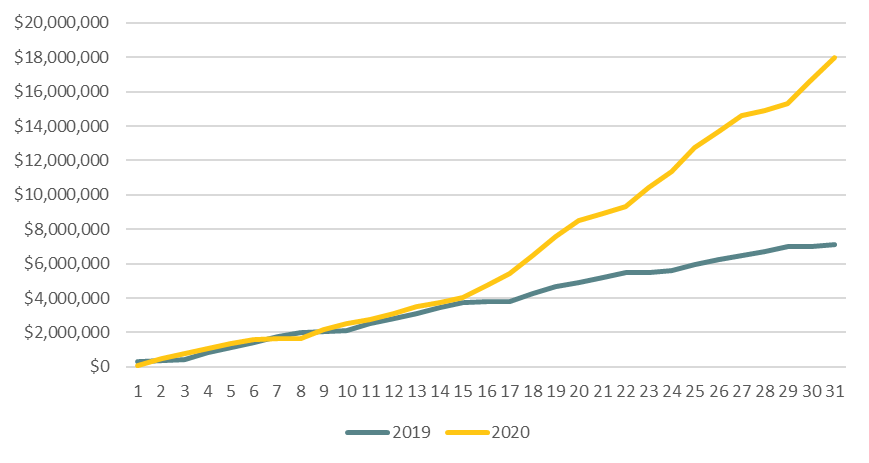 The Fundraising Effectiveness Project's first-quarter numbers, however, paint a much different picture of the situation across nonprofits. Overall giving declined 6% in the first quarter, with an 11% drop in March. Active donors also dropped 5.3%.
Food banks are a statistical outlier, but can this trend continue?
Here are a few things we know:
People plan to give more this year and give locally, and history shows donations to food banks rise during times of economic hardship. Those three factors indicate that food banks can expect giving to remain elevated in the coming months.
Giving is unlikely to reach the peaks seen in mid-March, but the right preparations can ensure that food banks maximize their fundraising opportunities.
CONVERT DONORS TO YOUR MISSION
Where should food banks focus their efforts over the next six months? First, put a plan in place to convert COVID-19 donors to your mission.
Food banks have seen a large group of first-time donors who gave during the early days of the pandemic. We know that these "disaster" donors behave differently – they give out of immediate emotion rather than a true tie to the mission.
We typically see 15-20% of disaster donors stick around for Year 2 when a specific plan is implemented to retain them. That number drops below 10% with no plan in place.
Here are some tips on how to convert disaster donors to your mission, and here is an example of how Houston Food Bank accomplished this with an intentional marketing plan following Hurricane Harvey.
And there's more:
GIVE DONORS A PERSONAL TOUCH
Show your donors how much you appreciate them. This is the perfect complement to your strategic plan for retaining new donors while also expressing gratitude for your long-standing supporters.
We know this part isn't easy. Food bank employees are stretched to their limits, packing so many boxes of food that there's barely time to even process gifts or enter data. Yet you simply must find a sliver of time to thank donors for their tremendous generosity.
Setting aside an hour each week to make wellness calls to your mid-major donors will go a long way to making them feel connected to your organization. Or use your board members as armchair ambassadors to make thank-you calls to new donors.
You can also set up surveys to check in with a larger group of donors, and you should create impact reports to show donors how their gifts are being used.
DON'T SLOW DOWN
Finally, keep your foot on the pedal.
We don't know what's coming next, but we do know that food banks still have great need in their communities due to high unemployment. At the same time, food banks have fewer volunteers for health/safety reasons.
That adds up to costs that have gone through the roof. While an unprecedented amount of revenue has come in already, that revenue is going right back out into programs.
Don't assume that you can stop direct mail acquisition just because you've seen a surge of new donors. Many of these new donors are younger and gave through digital channels, so it's a different audience. And, as mentioned above, retention will be challenging for this group.
Cutting acquisition will save money now, but it will cause a lot of pain in the long run. Read more about how to use data more effectively as you optimize your acquisition program.
The long-term benefits are huge for bringing in donors who stay committed to your organization beyond 2020.