Giving Tuesday 2020 is all wrapped up, and early indications show that it's another one for the record books. And, much like we've seen throughout the year, food banks are leading the way.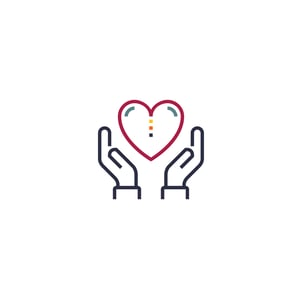 Since the onset of the COVID-19 pandemic in March, food banks across the U.S. have witnessed unprecedented generosity from donors. Many organizations—especially those that leaned into their digital channels—have already broken fundraising records in 2020.
One big question on everyone's minds has been: Will donors continue to step up their charitable giving, or do they feel tapped out? RKD Group even commissioned research with The Nonprofit Alliance to see how donors felt about year-end fundraising.
We found that 36% of donors plan to give more this December than last year. And of those who said they plan to give more, 61% have already given more in 2020 than in 2019.
That's what donors said they would do. Whether that plays out in reality remains to be seen.
We've gotten our first glimpse at December fundraising with #GivingTuesday. So far, donors are staying true to their word.
The results are in for 20 food banks—both big and small—and their combined Giving Tuesday revenue is $6.05 million. In 2019, these same 20 food banks combined for $1.28 million.
That's a 471% increase. Wow!
And that's only counting donations on Giving Tuesday, not any of the giving that happened in the days before as part of the campaigns.
"RKD helps many of the Feeding America member food banks raise funds, including on Giving Tuesday," said Catherine Davis, Chief Marketing & Communication Officer at Feeding America. "With the increased numbers of neighbors facing hunger right now in the wake of the pandemic, Giving Tuesday's success was vital."
Food banks have witnessed amazing generosity from donors since the start of the pandemic.
A few months ago, we ran a full-file analysis of 78 food banks across the U.S. and found a 623% increase in new donors through the first half of 2020. Three months later, the latest numbers through September show new donors up 579% and total revenue up 221%.
Think about that: Food banks have more than doubled the average active donor file from a year ago. But will these new COVID donors stick around and form a strong connection to the organizations to which they've given?
We've established that this new breed of food bank donors behaves differently from both the average food bank donor and a disaster donor.
This year-end giving season may offer further insight into the question of retention. The early signs from Giving Tuesday appear to be promising.
Some of our food banks segmented out COVID donors from their regular email file and treated them differently during Giving Tuesday. COVID donors (new donors on the file since March 12) had nearly triple the open rate on emails than the regular file (20.9% vs 8.0%) and quadruple the click-through rate (4.9% vs 1.2%).
And the most exciting part: COVID donors gave at a much greater rate, with a 433% higher response rate than the regular email file.
These statistics are all great news for food banks, but they also underscore the tremendous need that still exists across the U.S.
The pandemic has not gone away. In fact, it continues to spread rapidly from coast to coast, affecting both the health and finances of millions of Americans.
As food banks continue their mission to end hunger, these record-breaking funds from Giving Tuesday will go a long way to help during the holiday season.