We've written before about how rescue missions are transforming their brands to present the full scope of services they provide. At the same time, their donors are also changing. Our analysis of rescue mission donors shows that donors in 2020-21 were significantly younger and had higher incomes than those in 2013-14.
Therefore, as rescue missions continue their identity evolution toward life-transformation ministries, they must also adapt to new strategies for marketing and fundraising to meet their donors. For example, check out how rescue missions rank in search engine optimization (SEO) compared to other sectors in the nonprofit industry.
Missions were once the pillars of syndicated direct-response programs. But we know the old one-size-fits-all marketing approach no longer works.
Today's fundraising is all about connection and building relationships. Donors expect more than the traditional ask-and-repeat model. They want to get to know you.
And what's the best way to reach people? By telling stories—the way it's been done for centuries, even before the Greatest Story Ever Told.
Building Your Story
Every interaction with your donors should tell your brand story. But they should tell your donors their story, too.
Sharing your narrative isn't just telling stories about the people you help. It's sharing about who you are, too. Your voice. Your presence. Your impact in your community.
That is the kind of brand experience that goes beyond fonts and colors. It's what helps motivate donors to engage with you and be your partners in changing lives through a Christ-centered approach.
By interacting with you in a consistent way, your donors become invested in the transformations they make possible. They form identities as compassionate supporters; as the kind of people who don't just think about changing lives but who take action to do so.
That sense of pride and fulfillment moves your donors from transactional givers to partners in your work. It's a relationship built on trust.
Too many agencies neglect brand, seeing it only as displaying outcomes—or at worst, oppositional to fundraising, which is positioned exclusively as expressing need. But branding shouldn't be an obstacle to fundraising.
Brand integration is critical to effective fundraising. Repetition of messaging and brand attributes heightens awareness and deepens recognition. The end result naturally drives deeper engagement and retention.
Storytelling Campaigns
So how do you build direct-response campaigns around this idea of storytelling?
For starters, stop viewing campaigns as one and done. They should be holistic expressions of what you do. Missions are not single-cause organizations; nor should your campaigns be built that way.
Most nonprofit marketers start by developing creative built around an offer, which then drives a channel-by-channel experience. But this traditional model is so out of date it is nearly backward for modern communications. It creates silos and inconsistent donor journeys.
Donors don't make decisions in silos.
A story-driven approach builds around your content. Your stories. Your images. Your impact.
Your CONTENT creates the single biggest motivator for giving. Where else can supporters see the true stories of transformed lives that they helped to make happen?
From there, you should develop an omnichannel marketing and messaging map to create a blueprint. This blueprint builds a coordinated, compelling lineup of campaigns that fit within your overall marketing efforts, are content-driven and emotionally resonant ... and produce results.
Though your campaigns will vary, the overall experience your donors should have with your ministry should be consistent across every engagement.
One of the ways to build that consistency is through unifying, inspirational campaign identities. These anchor every communication for impact in every channel while motivating your donors to see the transformational power of their giving, one life at a time. These campaign identities often span several months and create a full communications arc.
A Campaign Identity Example
Just like unpredictable winter weather, none of us can predict the storms of life. From a frigid night on the street to the devastating toll of addiction, nobody is a stranger to hurting or seeing a loved one struggle.
Campaigns create an emotional focal point for donors, reconnecting them to your cause and reigniting support through relevant and relatable themes. Consider the campaign for Milwaukee Rescue Mission below: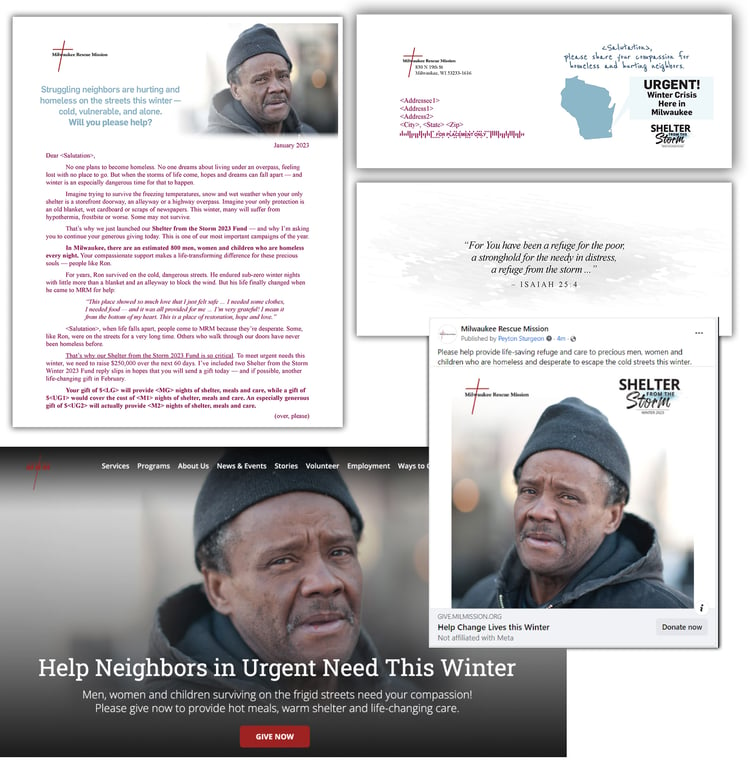 This campaign connects the winter season with the deeper impact of the storms of life.​
Everyone knows how it feels to be cold. And everyone knows what it's like to have personal or emotional challenges.
Drawing on these common experiences, the "Shelter from the Storm" campaign inspires donors to give to help those suffering from these extreme circumstances. This omnichannel campaign reinforces your brand, leverages powerful storytelling, and delivers a clear call-to-action to drive donors to respond.
Changing Your Approach
Stories of transformation are at the heart of what missions do. Your donors are at the heart of why that work is possible. Stories help engage donors on every level—by establishing context; by helping them see the issues their gift can help solve and the outcome of their giving.
Stop using stories on the back end—that is, don't begin with a campaign or theme and THEN add a story to fit. Start with your story first and build the campaign around it.
Rescue missions have so many stories that are heartbreaking and inspiring. Shouldn't they be the focal point of your donors' experience?
Imagine using the tremendous assets you already have in place—your own stories told in new and interesting ways—and carrying that message in a donor-focused approach through every channel. This makes the creative solutions YOURS and motivating because powerful storytelling engages hearts. Donors feel first and think second.