We've all gotten one of those annoying political texts that urge you to vote for a particular candidate or provide a link to donate. (And, if you're like me, you've been quick to reply "STOP" to opt out of these messages.)
Well, now nonprofits are starting to harness this same power—only we're using it for good.
With today's challenges in donor retention, nonprofit marketers are constantly searching for ways to build stronger relationships with donors. Through a new texting service that we're calling "peer-to-peer texting," we can accomplish both.
In this blog post, I'll go over how P2P texting differs from standard text messaging and how you can build strategies around it. I'll also share an example of how well it worked for one of our clients recently.
Peer-to-peer vs. mass texting: What's the difference?
The names kind of say it all here. Mass texting is a one-to-many blast of a message out to your audience. Peer-to-peer texting is truly one person texting another person. In many ways, it's a modern form of telemarketing.
Someone at the texting service sends out text messages to a list of phone numbers. That person is also available to respond to any replies with a few scripted messages or the ability to redirect them to speak by phone with a representative at the nonprofit.
Another important distinction is that standard text messages only go out to those donors and constituents on file who have opted in with their mobile number. Peer-to-peer texts go out to that audience as well, but they can also append your CRM file with mobile numbers matched to donors who haven't provided one. It's important to note that these appended donors will still have the ability to opt out of any future texting.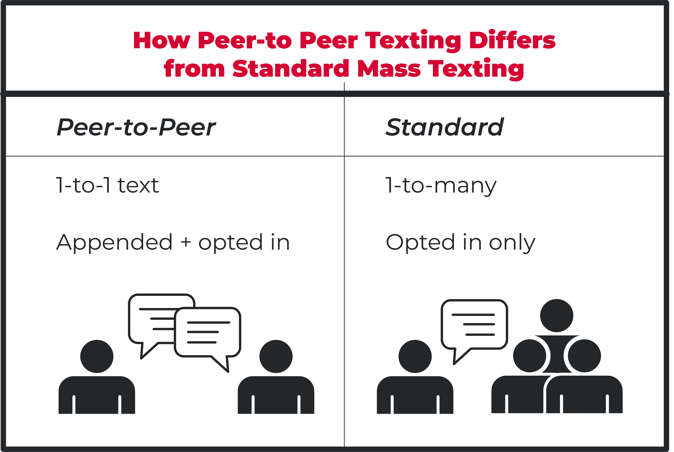 Strategies for using peer-to-peer texting
Since we're appending numbers and having an actual human deliver these messages, P2P texting is often a bit more expensive than standard texting. That means it's important to find the right audience to message, rather than just blasting them out to everyone.
With that in mind, we recommend suppressing the following groups from P2P:
Managed donors

Major donors

Volunteers

Sustainers
We have also found that digital-only donors have a better ROI in these text campaigns. If cost is an issue or you simply want to test the program out, start with your digital-only donors.
As you expand from there, many audience segments make sense for P2P texts. For example, when you send out your next direct mail appeal to deeply lapsed donors, you can time it with P2P texts for a multichannel touch.
Basically, the same fundraising best practices apply from other channels. We've seen peer-to-peer texts work well in conjunction with match campaigns and year-end appeals.
As far as frequency goes, it varies by organization. Start slowly and begin adding until you see a significant drop-off in response or increase in opt-outs. Also, because this is more expensive than a standard texting platform (something like Hustle or SimpleTexting), we recommend using it for messages that are most likely to generate a positive ROI.
You can also leverage both types of tactics and platforms together to create a healthy mix of asks and stewardship, so the donor doesn't get fatigued by texts that always ask for money.
P2P texting in action
Using the principles above, we executed a peer-to-peer texting campaign for San Diego Humane during the year-end season.
We sent MMS texts to 0-to-24-month donors as part of a larger multichannel match campaign that included email and direct mail. For the image, we used their logo to lend credibility to the message.
We included a URL that linked to a unique donation form. With no other channels driving to this donation form, we were able to get a clear picture of the return on investment for this venture.
Once we tabulated all the donations through Dec. 31, the result was a 3:1 ROI. That's more revenue for your mission!
All in all, most nonprofit organizations do not have robust, opted-in mobile lists. Everyone is trying to build these lists slowly, but P2P texting lets you text a wider group of donors—opted in or not.
It's certainly worth a try.