Three years ago, we shared how changing attitudes toward religion were impacting philanthropy.
Today, we wanted to take another look. Is religion still in decline? How will that impact fundraising for faith-based organizations?
According to the Pew Research Center, 64% of Americans identified as Christian in 2020. That number is down from 90% in 1972. And it's projected to continue to decline, depending on the scenario, to levels as low as 35% by 2070.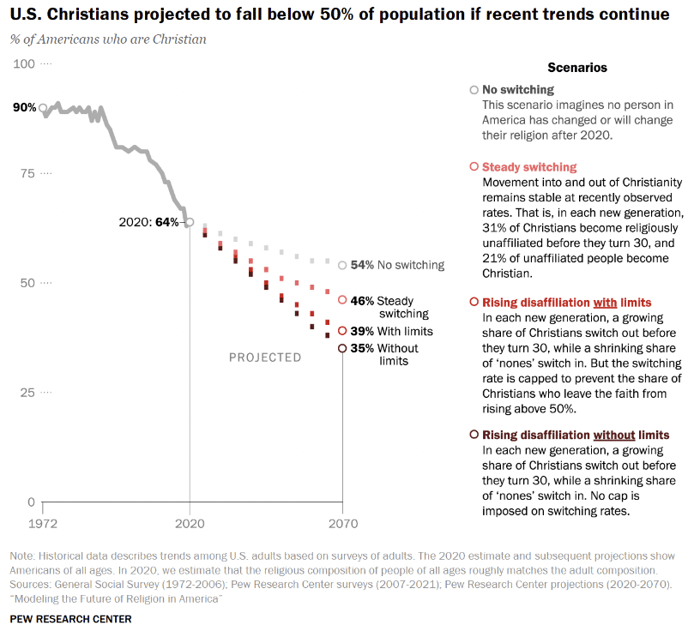 On the opposite end of the spectrum, people who are religiously unaffiliated accounted for 34% of the U.S. population—up from 5% in 1972—and are projected to become the majority of the population by 2070.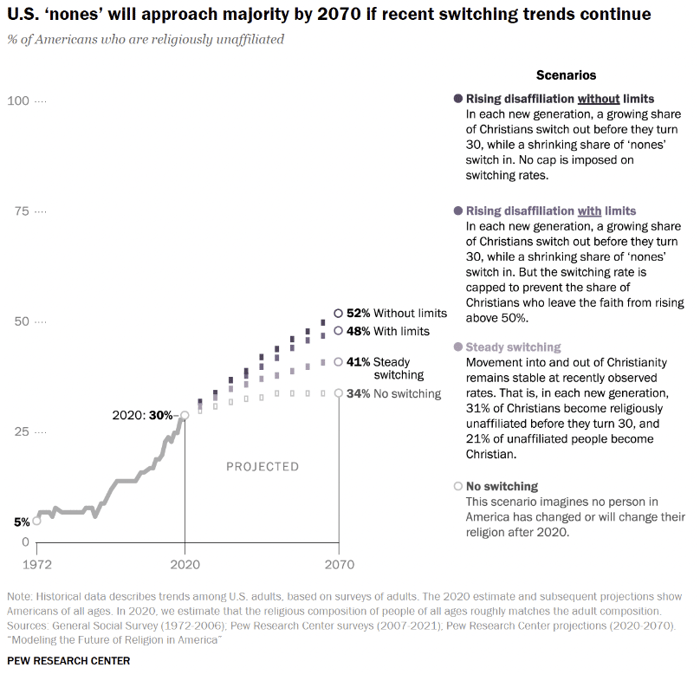 As a faith-based fundraiser, you may view this dramatic projection as harrowing, especially as you look to grow your mission and reach younger, faith-driven donors.
But it's not all doom and gloom.
Many people of faith feel this trend— and while some may feel discouraged, most are actively looking for ways to support organizations that reflect the tenets of their religion. They're looking for nonprofits like yours to connect with so they can put their faith into action in order to alleviate pain and suffering.
How to navigate this new landscape
Stay true to your mission and values.
This is perhaps the most important piece of advice I can give a faith-based organization, or any nonprofit, for that matter. Donors are losing trust in nonprofits—and if we veer off course and lose sight of our values or mission in order to appeal to wider audiences, they will sense it.
Listen to your donors.
Now more than ever, it's critical to know your target audience and who your donors are. Listen to them—in the appeals they respond to, in the feedback they give you and in the programs they support.
Use this wealth of information to show them you know them, you understand what's important to them and you're committed to the work you do despite any hardships you might be facing.
Have the courage to think outside the box.
It's time to bring faith-based fundraising into the 21st century. To attract younger audiences, we can't solely rely on direct mail and email campaigns. We have to meet them where they are.
How can you expand into new markets? Maybe it's partnering with a faith-based musician touring the U.S., investing in DRTV spots on streaming services or leaning into the strength of Christian or faith-based media.
Work with an agency partner who understands your calling.
Finally, work with a creative partner who understands your values and your mission. Your donors will quickly identify if a message is written by someone who doesn't truly understand their faith and the calling they feel for your particular organization.
As views on religion continue to shift in the U.S., it's our responsibility, as faith-based fundraisers, to shift as well—working harder to listen to our donors, reach them where they are and have the courage to think outside the box.