Does it seem like you're rowing against the waves trying to reach donors? Do you feel like fewer people are willing to donate to your faith-based charity in recent years?
You're not alone. And you're also not paranoid.
A recent report by the Indiana University Lilly Family School of Philanthropy details major changes to the charitable giving landscape from 2000 to 2016.
The biggest insight is that the share of U.S. households that give declined 13 percent during that time. That represents 20 million households that have simply stopped giving to charity.
Your gut reaction might be to blame the Great Recession for tightening belts nationwide, but that only represents a piece of the pie.
Let's dive into these stormy waters for a closer inspection of another key factor that's often overlooked: the decline of religiosity in America. Then, we'll look at how faith-based groups can adapt.
AMERICANS ARE LOSING THEIR RELIGION
As attitudes toward religion change across the U.S., we're seeing a trickle-down effect on philanthropy. Churches nationwide have felt this pinch in their attendance numbers, and now faith-based charities like rescue missions are feeling it when it comes to donations.
The statistics bear this out.
Studies have shown that people with strong religious beliefs are more likely to give to charities, especially ones connected to their religion. Research shows 65% of Americans who claim a religious affiliation give to charity. That number drops to 56% among those with no religious affiliation.
According to Gallup data, church membership in the U.S. hovered around 70% for six decades until 2000. Since then, we've seen a steady decline down to 50%. During this same period, the percentage of Americans claiming no religious affiliation has increased from 8% to 19%.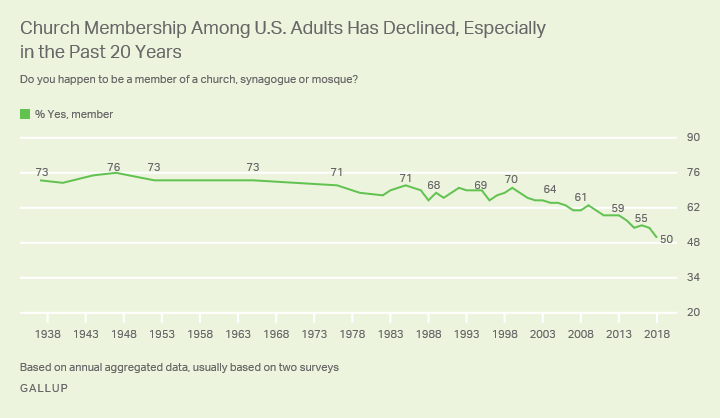 If we know religious people give more and fewer people are identifying as religious, it's no big surprise then that we've seen a drop in charitable donations.
FINDING THE ROOT CAUSE
The big question here is why people are losing their religion. The answer, of course, is complex.
We do see a clear trend in generational differences. The same Gallup research shows a steady drop in religious identification from one generation to the next. FiveThirtyEight also notes that millennials are leaving religion and not coming back.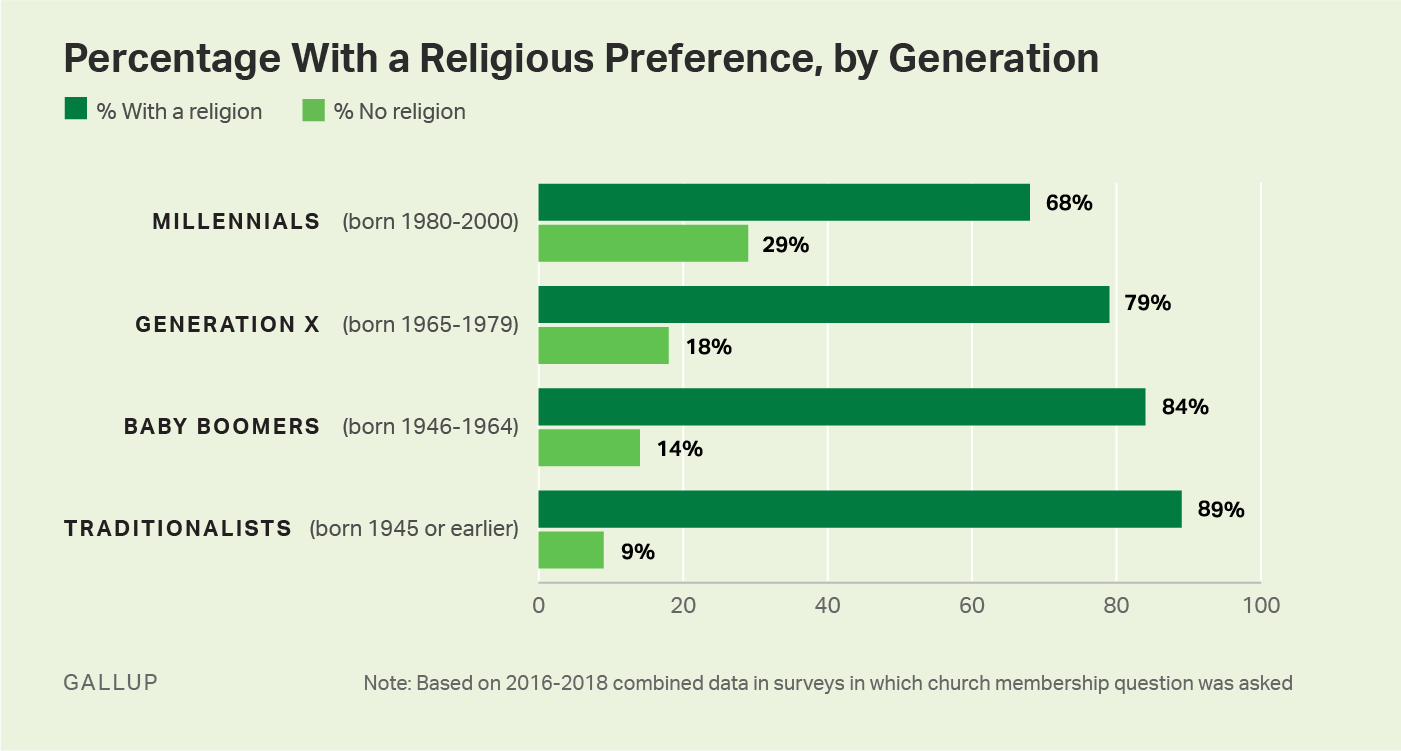 While millennials often make an easy target for all the woes of society, a recent survey by Key Private Bank shows the parents may be more at fault than the kids. According to 123 wealth advisers, high-net-worth individuals are not talking to their children about philanthropy.
The survey also showed a sharp divide between generations in terms of which charities receive donations.
Parents are most likely to support faith-based causes (73%) over environmental causes (3%). Children are most likely to support environmental causes (59%) over faith-based causes (3%).
All in all, fewer parents are passing their religious beliefs and charitable habits to their children. Subsequently, when those children become adults, they are focusing their donations elsewhere.
Again, the numbers show this to be true.
In the Giving USA 2019 report, overall giving increased to $427 billion in 2018. However, donations to religious organizations declined 1.5%, falling below 30% of total giving for the first time. The same research shows giving to environmental and animal welfare causes increased 3.6%, reaching an all-time high.
WHAT CAN FAITH-BASED CHARITIES DO?
First off, it's no time to panic. These numbers may look grim, but the fact is that donations to religious organizations, at $124.5 billion, still make up 29% of all charitable giving. That's more than double even the next biggest group.
It's a good time to remember the Serenity Prayer. Have the wisdom to know you cannot change these broad trends affecting charities nationwide. But have the courage to change what you can at your organization.
The key to success in fundraising is always simple in theory: Reach the right people at the right time with the right message. Executing a multichannel strategy is much more complex, but mandatory in today's climate.
For faith-based organizations today, we recommend that you …
Put donors first. Ensure that the donor is the centerpiece of the relationship, not the transaction of the gift. Check your marketing materials to reduce or remove self-talk.
Avoid insider language. As donors are changing, we need to change how the story is shared with them. Each story is still a miracle, but we can't use language that is exclusive to a particular faith or religion.
Analyze data to refine your approach. There is power in your data, for past, present and future. Use your data to determine who will be receptive to your mission and focus your efforts there.
Make use of new technologies. From social media to Google Grants to modern email marketing, the number of ways to connect with your audience continues to grow. Be nimble and adapt to these new platforms.
Optimize across channels. Now is the time to evaluate and plan how to make all channels work together for your mission's greater good.
As trends shift and change, continuing to row against the waves will get you nowhere. It may be time to get out of the boat.