The dirty clothes are piling up. It's laundry time again.
Did your eye twitch just reading that?
Sometimes a simple task like doing the laundry can feel daunting. It's easy to procrastinate and say, "Maybe tomorrow." But it's not going away.
Planning out an organic social media strategy is a lot like this. You know you need to do it but getting started can be overwhelming. You also know you need to keep doing it week after week.
This is especially tough for many nonprofit organizations, who often don't have the resources to give social media the attention it deserves. Too many nonprofits have little or no social media strategy, and they simply post sporadic updates about events.
If this sounds familiar, you should know that you're missing out on a huge opportunity for donor engagement. This has a direct effect on fundraising for nonprofits.
Here are a few reasons why you should stop waiting until tomorrow and should start planning out a strategic approach to organic social media fundraising.
CHANGING DEMOGRAPHICS
When we look at the state of giving today, we know the average donor age is 62. We know older donors give more. We know direct mail is still an incredibly effective method for donations.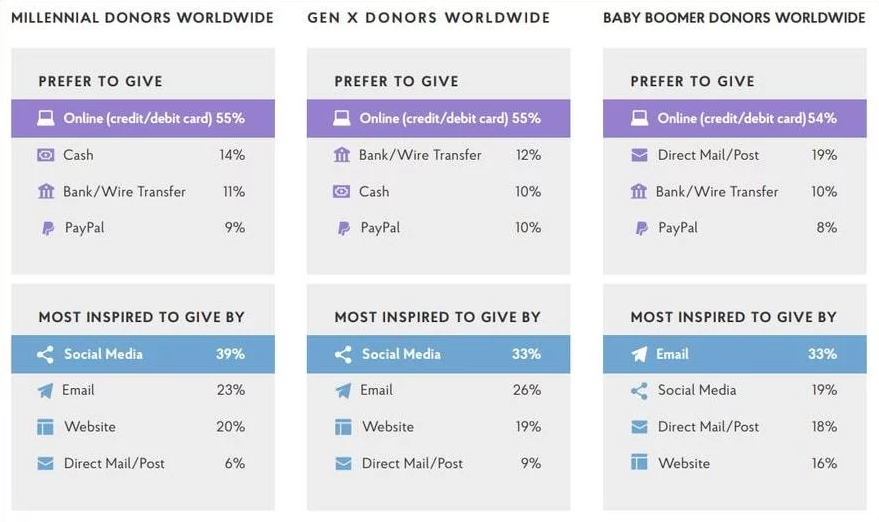 But we also know that demographics are changing.
Take a look at the numbers below from the 2018 Global Trends in Giving Report. Note the clear difference between what most inspires Baby Boomer donors compared to Generation X and Millennial donors.
Social media is a huge part of donors' lives – especially younger donors. That makes sense when you look at the rapid growth of Facebook fundraising, which just hit the $2 billion mark in donations.
As they say in marketing: Go where the audience goes. That increasingly means social media.
DONOR ENGAGEMENT
Unless you have the resources to meet with each and every donor, there is no better tool for donor engagement than organic social media.
Social media provides the opportunity to have conversations and build a community online. The key focus here is on the "social" aspect.
You can't simply schedule posts and walk away. It's the equivalent of sitting in the corner of a party, shouting things out and hoping to make friends.
That's not going to work. You need to mingle, start discussions and listen to what others have to say.
The same applies to social media. Your scheduled posts can act as conversation starters, and you should listen and respond to questions in comments and through direct messages.
You can also use video to engage with donors. This showcases the human side of your nonprofit and the work you do.
The videos can be simple, like showcasing the work of your volunteers. After all, people seem to be obsessing over watching "with me" videos of ordinary tasks on YouTube.
If you do organic social media well, you can really build a connection with donors. In today's world of digital distractions and declines in giving, that connection is critical. As our research shows, the biggest reason why donors reported giving less in 2018 was feeling less connected to an organization.
Share your good works, highlight where donors' dollars are being spent and stay in the conversation. This builds trust and keeps your organization top of mind.
MULTICHANNEL ALIGNMENT
Organic social media plays a critical role in your multimedia marketing approach. Paid social media and digital advertising are great for donor acquisition, and organic social media is great for donor retention.
The goal is to align your messaging and images through all your efforts, whether it's your website, email, direct mail or social media. This puts a face to your mission and presents a clear and consistent brand to your audience.
You can also use organic social media as a testing ground for your paid social media strategy. Try out different posts and see how your followers respond. Then, choose the top performers as sponsored ads to reach new donors.
All in all, the benefit of this multichannel marketing is that donors will remember you when trying to decide which organization deserves their hard-earned money.
PUTTING THEORY INTO ACTION
What does social media fundraising look like when it's done well?
We worked with St. Labre Indian School on a multimedia strategy that included organic social media.
Throughout the year, St. Labre shares social media updates about the children at the school and the success they're having – building a personal connection with followers. They also mix in occasional requests for donations to help these students.
The numbers show how well the strategy is working.
From December 2017 through December 2018, St. Labre increased their number of Facebook followers from 87,495 to 110,289 (26.1% increase). This was due in part to both organic and paid efforts.
But the average monthly engagement – an organic measurement – increased 17.49% year over year. That means more people came in and also got involved in the online community St. Labre created.
The holistic approach paid off for St. Labre's year-end giving campaign in 2018 as donation revenue increased across all channels.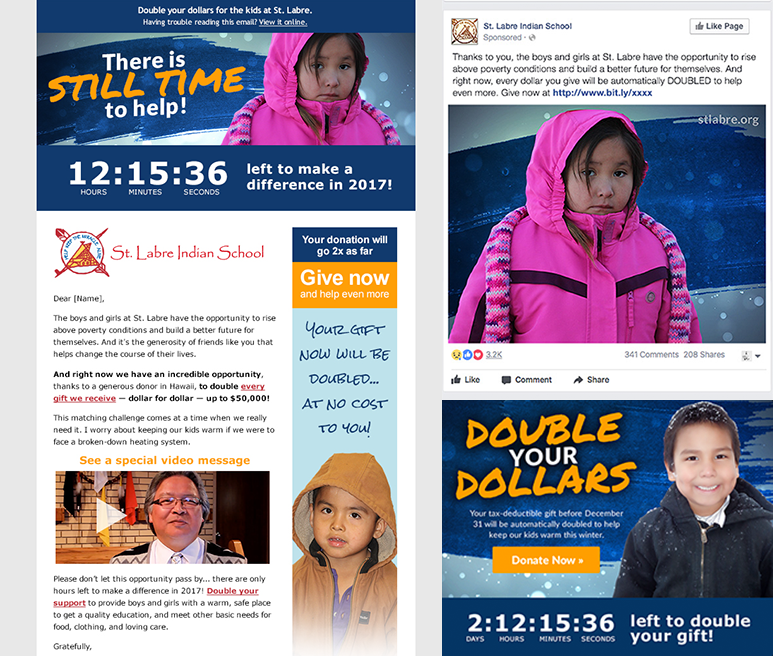 START NOW
What are you waiting for? Start your organic social media fundraising now!
Just like with laundry, you're not going to find a perfect time that fits seamlessly into your busy schedule. You simply need to push through it and get it done.
And much like a closet full of clean clothes, the benefits of social media fundraising are certainly worth the effort.
LOOKING FOR HELP?
Not sure where to begin? Check out our infographic below for a few helpful tips to get started.
After that, listen to our Groupthinkers podcast in which host Justin McCord taps into the social media expertise of Julia Campbell from Marketing for the Modern Nonprofit.

LISTEN TO LEARN MORE
Julia Campbell is an author, speaker and nonprofit social media consultant. She recently sat down with Groupthinkers host Justin McCord to talk about the trends and hurdles facing nonprofit digital marketing, including social media storytelling.
Groupthinkers is the podcast for nonprofit marketers by RKD Group. This is a must-listen experience of thought-provoking content that inspires insight on the industry and strategic decisions. Groupthinkers brings together innovators and curators in nonprofit marketing, branding and direct response to tackle the major issues facing nonprofits today.
Subscribe today on iTunes, Stitcher, Spotify or Soundcloud.