Email marketing has grown exponentially in the last five years.
With 3.9 billion daily email users and an average industry open rate of 20.39%, email remains a powerful and effective channel to get information and fundraising asks in front of nonprofit donors.
However, keeping up with the volume of emails sent out on a regular basis can be a challenge.
That's where templates come into play.
While templates don't sound as exciting as a brand new, shiny email design customized for every campaign, they can be a lifesaver for nonprofit staff that have been stretched even thinner during the pandemic.
Not only do they save you time, but they can also be optimized for best practices and tactics that are known to work for you and your audience.
In this blog, I'm highlighting the seven email templates every digital fundraiser should have on hand throughout the year.
1. Fundraising email
This one probably seems a little obvious, but it's necessary to discuss, nonetheless. A good fundraising template that is tried and true is the most important thing for digital fundraisers to master.
You should feel confident that this email template will be you go-to source when you need to ask for donations through the email channel. It's also helpful to have both a match and non-match template.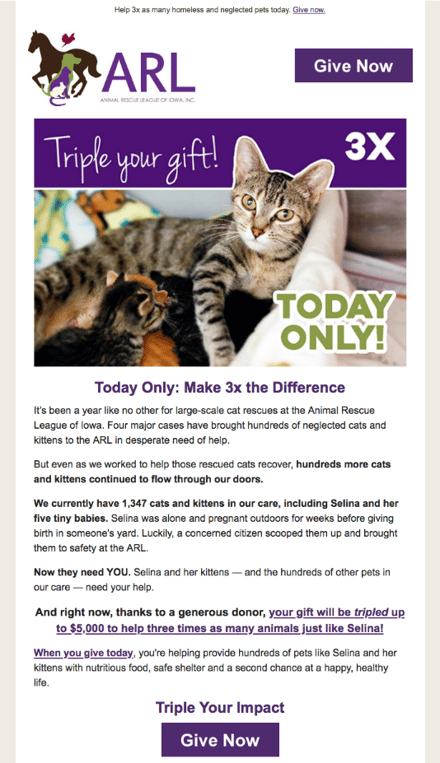 2. Welcome series
A good welcome series should technically be made up of more than one email, but for the purposes of this blog, we'll lump them together here.
Having a welcome series template built and ready to go when new donors and email subscribers come onto your file is the best way to build an early relationship with them. The language can be changed throughout the year if needed (for example, we developed a COVID-specific welcome series), but the basic principles always remain the same, making this the perfect template candidate.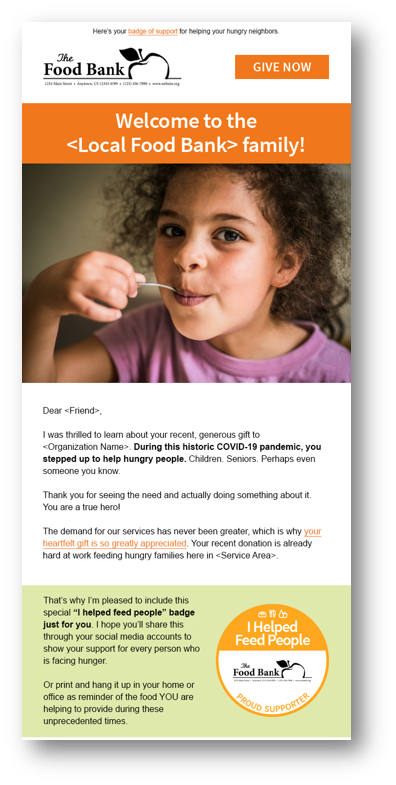 3. Thank you email
A simple thank you goes a long way, and a thank-you email should be standard after every digital donation. Having a thank you email template ready to go will help ensure that you never miss expressing sincere gratitude to donors supporting your cause.
You should ensure that these autoresponder templates are relevant. They can be used after special campaigns or after disasters as a stand-alone email. Video is also a great tool to increase engagement within thank-you emails.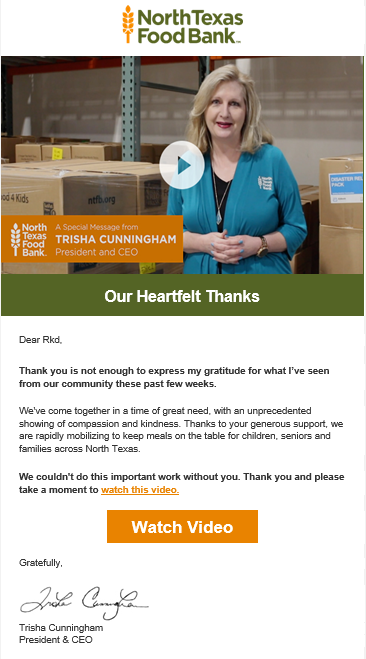 4. Emergency appeal
Speaking of disasters and emergencies, they are inevitable. Whether it's a wildfire, hurricane, global pandemic or evens something as small as having to replace a broken piece of equipment, having an emergency appeal ready to go can help you respond to anything at a moment's notice.
You'll have to update the specifics, but the basic copy and design principles can remain the same from disaster to disaster.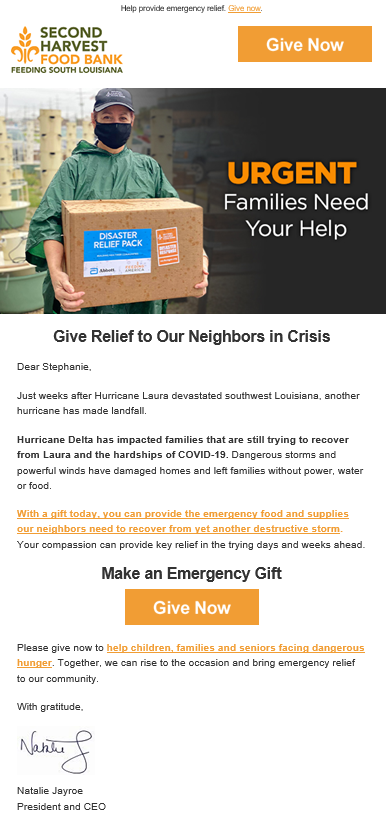 5. Informational update
A basic informational template most likely doesn't include an ask. However, it's a tool you can use for any updates you need to share, testimonials you want put out or last-minute messages from leadership that may impact donors.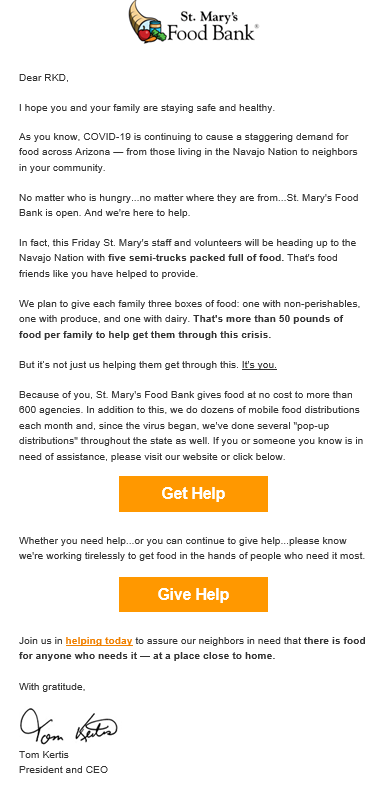 6. Email newsletter
Email newsletters are a great stewardship tool for your digital donors. They keep them informed and provide a consistent brand presence for your organization. Plus, the templates shouldn't change much from month to month, allowing you to swap out images and copy easily.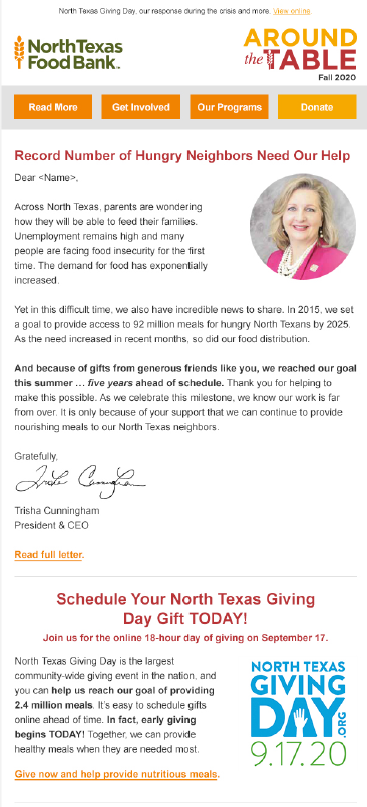 7. Event email
Events look a little different right now, but it's still important to have a template ready that works for a small in-person gathering or a larger virtual event.

These should be short and sweet, but keep in mind how your event images will render on mobile when you are building these templates. Too often, event invites are images of a physical invitation that doesn't resize correctly, becoming unreadable on mobile.
Email templates allow you to manage frequent email sends with efficiency. While you still have the ability to break from templates for special campaigns or fundraising appeals, having successful templates ready to go will save you time and money in the long run.