What if I told you the most successful year-end fundraising strategies begin their digital media promotion in October?
It may seem early, but year-end is around the corner. And while digital advertising has gotten smarter thanks to machine learning, it still takes time to properly turn prospects into loyal donors.
That's why the most impactful year-end strategies take a layered approach that begins with brand awareness and prospecting and ends with strong CTAs that lead to conversions.
In this blog, we'll show you how to layer your digital media strategy throughout the next three months, and we'll highlight some unique factors to keep in mind during 2020.
A LAYERED APPROACH
You must have a plan in place to properly capitalize off your media spend at year-end. To see the best results in December, promotion needs to be under way in October.
This requires more than just throwing up a "Donate Now" CTA and hoping for the best.
Like all other fundraising channels, you must take your audience through a carefully crafted journey. In digital media, it looks like a funnel: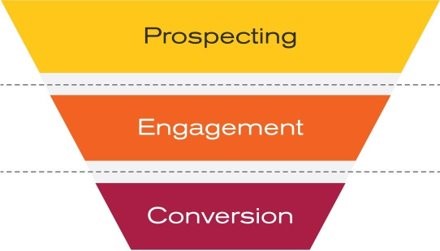 PROSPECTING
Starting in October, begin with interest-based targeting that builds brand awareness with audiences who may not be familiar with your organization.
The prospecting stage is all about casting a wider net and targeting potential donors who may have donated to similar causes or have interests that align with your mission.
In this step, your focus should be on educating your audience and building awareness. Share your mission, teach them about your cause and drive traffic to your website so they can continue to learn more.
Because your net is wider – and, therefore, your audience is larger – this stage is the most cost-efficient.
ENGAGEMENT
As we move to engagement, we begin to narrow down the playing field. This step is all about targeting lookalike audiences – built based off donor demographics – as well as retargeting users who engaged at the prospecting level.
This should take place in October and November, scaling back once December rolls around and the focus shifts to generating conversions.
While you're still familiarizing donors with your organization in this stage, you can begin layering in a soft call to action (CTA) that primes them to give.
Reach them through boosted posts, display, Facebook ads and paid search, driving engagement and brand awareness.
CONVERSION
Finally, we get down to what you all probably came here for: Conversions (aka year-end giving).
Because you've started this process with prospecting and engagement, you have an audience that is familiar with your cause and is ultimately primed to make a gift at year-end.
The main push should be to people who have been engaging with you since October and those who have given to you previously.
Target them with hard CTAs in display, paid search and Facebook that create a sense of urgency and ask them to donate now.
After the gift, you can cycle them into your retention program.
DOES ANY OF THIS CHANGE IN 2020?
We firmly believe that layering your digital media strategy is effective no matter the season, year or fundraising climate. However, 2020 is special in more ways than one. Here are just a few things to keep in mind as you manage your programs:
Election season
As we get closer to Election Day on Nov. 3, digital media campaign spending will reach astronomical heights. Be prepared to increase your budget around this time. Although you'll have to spend more to break through the noise, we don't recommend scaling back. Stay consistent and share positive messages that serve as a refreshing break.
Also, be aware of restrictions on platforms like Facebook that may flag your messages as "political ads."
COVID-19
Don't count out your COVID donors for year-end giving. Early signs are showing that donors who gave in March and May aren't tapped out.
As you target them, continue to stress the increased need you're experiencing if you're serving on the front lines of the pandemic response. If you're not, stick with your standard year-end messaging.
Giving Tuesday
Giving Tuesday occurs annually, so this isn't exactly special to 2020. However, with it falling on Dec. 1 it does tighten your timeline.
Because of this, you will need to pace your budget differently. After Giving Tuesday is over, be prepared to shift your messaging to the holidays and your year-end campaigns.
Digital media plays an integral role in year-end fundraising. A layered strategy promotes cost-effectiveness, maximizes the potential for conversions and allows you to reach your donors where they are.
Watch our webinar for more information on a layered digital media strategy.