Galas. Walkathons. Major donor stewardship events.
The future of these experiences may have looked hazy back in March. Now that we all have a few virtual events under our belts, it's evident that virtual fundraising is here to stay.
To all my traditionalists who love a good in-person event, I'm not saying they'll be gone forever – they may just look a little bit different.
Galas, ballrooms and big-ticket events certainly provide the "Wow" factor we all know and love so much. They allow donors to mingle with others who have a passion for your cause, and they create a meaningful, memorable experience. But with them come large price tags, extensive planning and limited reach.
Virtual events allow you to expand your scope to larger audiences, meet donors where they are and leverage cutting-edge technology that enhances the experience.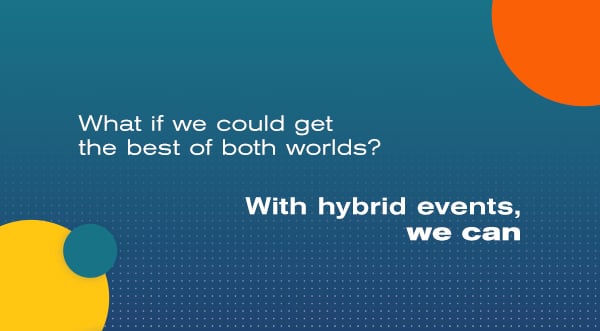 THE BASICS OF HYBRID EVENTS
Hybrid events allow you to take the best aspects of large in-person gatherings, small intimate settings and virtual events and bring them all together.
There are endless possibilities at your fingertips. Whether it's one main event in a major city supported by satellite events in smaller cities nearby, or a program hosted in a small ballroom with in-home experiences across the country, you can build a fiscally responsible hybrid event that works for you and your donors.
Like any other event, you still need a quality program that leads with your mission and is backed by a strategic fundraising plan.
You also need to bring the fun. As more and more virtual events pop up, people will begin to feel fatigued. Hybrid events must provide a fun, exclusive or immersive experience for all attendees – whether they're at a venue, watching from a small watch party or tuning in from their devices at home with family.
To do this correctly, the connection piece needs to look a little different. You have different audiences in different locations having different experiences. Here's what you need to know to bring it all together:
Audience experience development
How will you make sure that your audiences – no matter where they are – are having enjoyable and meaningful experiences? You must do the legwork to develop your different audience experiences or your show will look and feel fragmented.
Managing the different locations and audiences can be challenging. But you can also use this to your advantage. By grouping experiences by demographics or giving level, you can fundraise in a more meaningful, personalized way.
Volunteer and board activation
Volunteers and board members are essential to any event's success. They have extensive networks and can use their connections to spread excitement about the event. They can even serve as stewards and hosts at your smaller, satellite segments.
However you decide to leverage them, you must have buy-in from your volunteers and board members. If they're excited, they're network will be too.
Run of show
Typical events usually begin with a welcome, a connection piece, the build-up, an emotional appeal and, finally, a call to give. In a virtual or hybrid setting, we've found that the run of show must happen at a much faster pace.
People's attention spans are far shorter virtually, so you must grab them and hold them.
Sponsorship
The biggest fear organizations have surrounding virtual events may lie with the sponsorship component. Calling up your sponsors and telling them you've rethought your entire event production may sound scary. But believe me – there are a lot of really great reasons why hybrid events are perfect for sponsorships.
The great thing about having a virtual segment is the reach it provides for your sponsors. They're no longer limited to just who can fit in a ballroom. They gain access to all the viewers who tune in, too. And, if you include gift boxes, programs and social promotion leading up to the event, they gain even more valuable facetime with your donors.
HYBRID EVENTS IN ACTION
How would this look on a larger scale?
Let's talk about this year's Emmys. Much like normal, Jimmy Kimmel was still stationed at the arena to host the entire event.
However, instead of the standard audience, they stationed more than a hundred cameras around the world to stream the reactions of nominees. Awards were on standby outside their homes and delivered in a socially-distanced manner.
Obviously, this was a very large-budget production. But it doesn't have to be.
City Rescue Mission recently moved one of their annual events to a virtual, hybrid setting.

The main event was filmed and livestreamed for audience members across the country. Volunteers, who would normally have their own tables in an in-person setting, instead hosted small watch parties for their networks.
To help build the experience, boxes were delivered to donors with programs and mission-themed swag. Some attendees even picked up meal kits to cook at their homes. The event was a huge success because it leveraged connected experiences and is proof that virtual events are here to stay. You can read all about it here.
Hybrid event models are transforming how we build experiences for our donors. With so many ways you can bring them to life, hybrid events provide nonprofits with an incredible platform to share their mission with an even wider audience.