The 2020 presidential campaigns have been polarizing for many reasons. Because of this, the two candidates are coming up with clever ways to reach their donors and spread their messages.
Love it or hate it, you're probably being targeted by digital ads from both sides and receiving dozens of emails asking for support through donations.
While it may be tempting to ignore these efforts due to sheer volume, one thing we've learned over the years is that election cycles have historically been a breeding ground for marketing innovation.
From the early messaging we've seen, this cycle won't be any different.
That's why I encourage you – no matter your political affiliation – to monitor the tactics, messages and strategies used by both parties.
We've already seen a handful of digital innovations that could be major opportunities for nonprofits. Let's take a look at a few:
1. MAKE IT WEEKLY
We all know the power of sustainers, but we typically hold them to monthly donations. In Joe Biden's donation form, there's an option to "make it weekly."
Would a $20 weekly donation feel like less of a commitment than a $80 monthly donation? It could deserve some consideration – and careful testing, of course.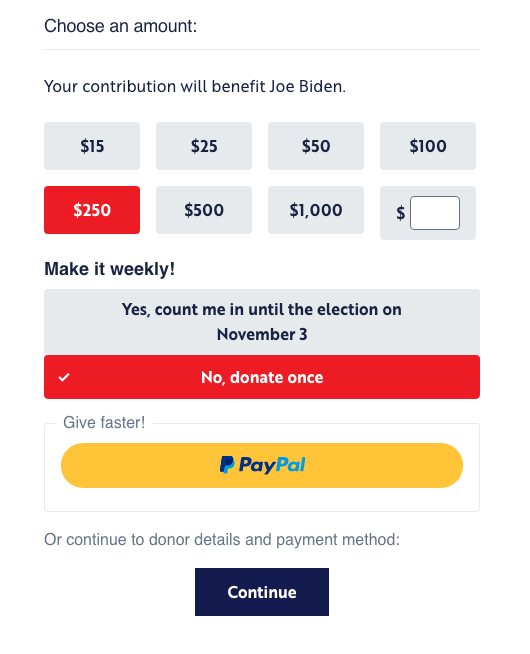 2. LIGHTBOX POP-UP
Unlike the normal lightboxes most nonprofits know and use regularly – this lightbox pops up when you mouse over the back button on Donald Trump's donation page.
This exit strategy adds one more barrier to the donor leaving the page and makes a final appeal for a donation.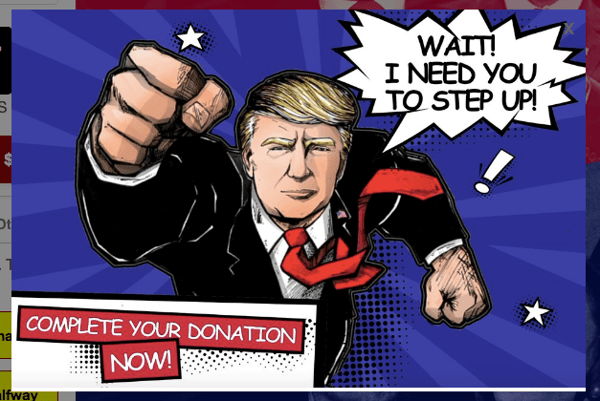 3. ASKING FOR A TIP
ActBlue has taken the donation process a step further, giving the donor an opportunity to add a tip at the end of their gift. This final appeal for donations could provide an additional opportunity to increase revenue numbers.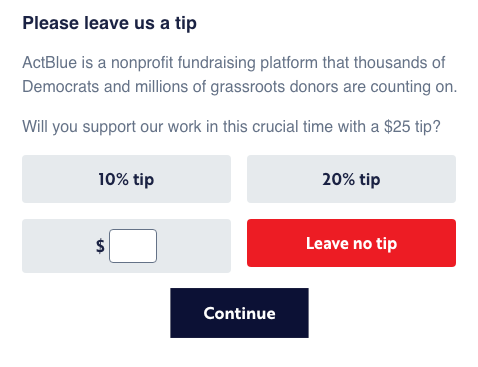 4. CALLOUT FOR "ELITE" DONORS
On Trump's donation form, there's a call out for "Elite" donors who give more than $100 that wiggles when you load the page.
Many nonprofits already know the value of naming their sustainer programs or top donor pools, but this provides an added callout to grab the attention of donors as they look at your ask array.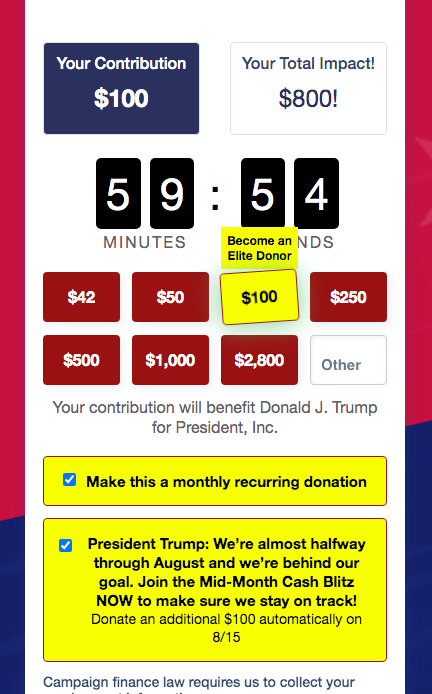 5. FOLLOW-UP SURVEYS
For donors who give to Biden's campaign efforts, a follow-up email is sent with a link to a survey asking what inspired them to give.
Not only does this short survey form a deeper connection with donors, but it also collects valuable information on their donor pool for future use.
For nonprofits, this is a great opportunity to learn more about who is giving to your organization and why.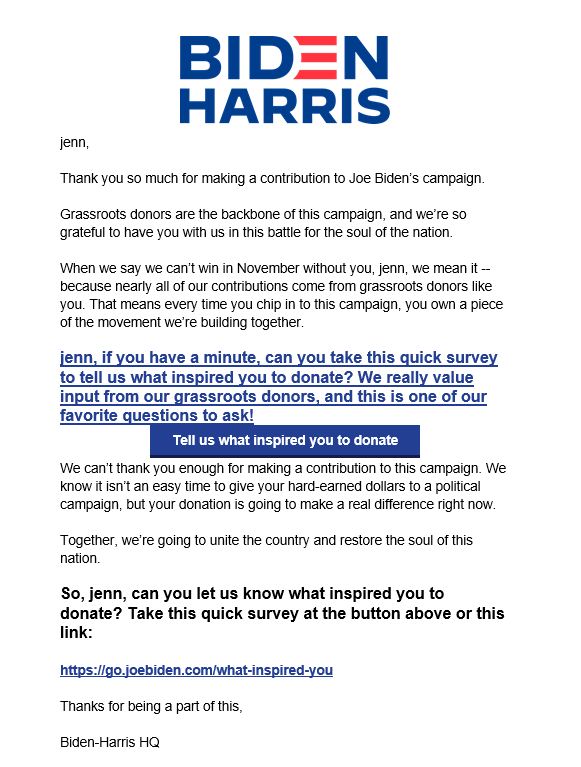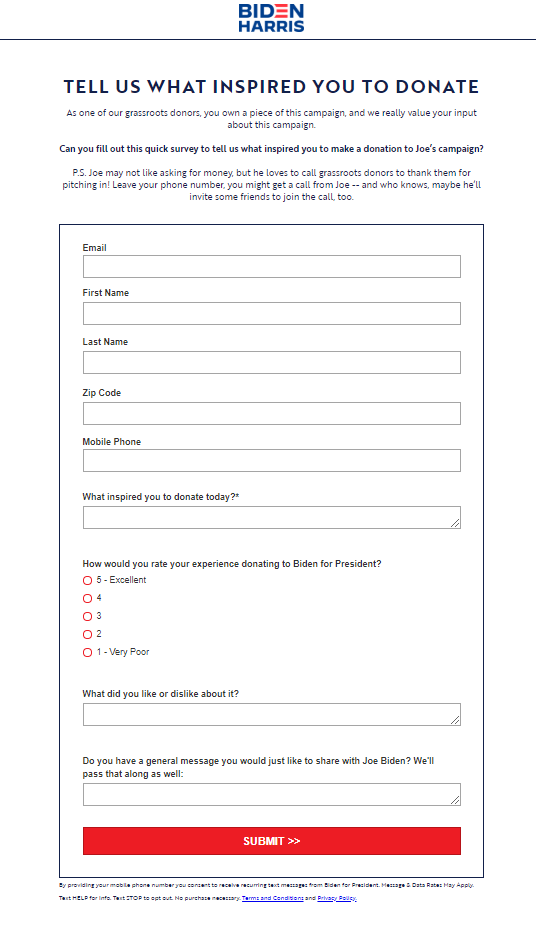 6. TEXT MESSAGING
This isn't a new tactic, but it's an important one to remember. Text messaging has become a tool used by campaigns to ask for donations and remind people of the upcoming election.
Research shows that people open 98% of the text messages they receive. That's an insanely high number that could be leveraged by nonprofits for added face time in front of their constituents.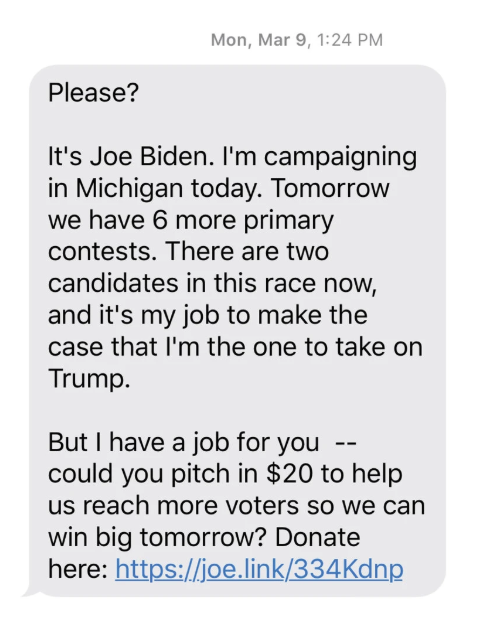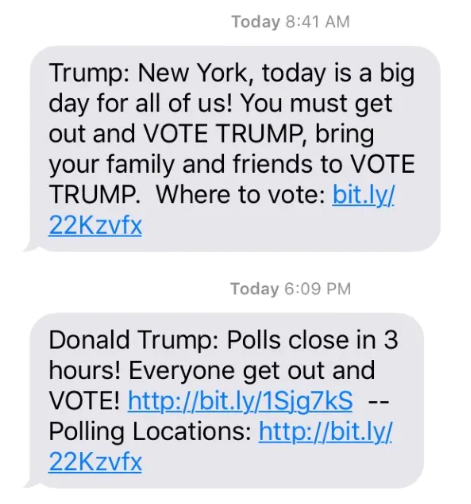 7. EMAIL DONATION COUNTDOWN
Most organizations are already familiar with the use of countdown timers in things like lightboxes and emails. However, this donation countdown is a unique twist on an existing strategy that could help create a sense of urgency in your messaging.
Organizations could countdown the number of meals needed to feed families at Thanksgiving or the number of puppies left to be adopted from an animal shelter.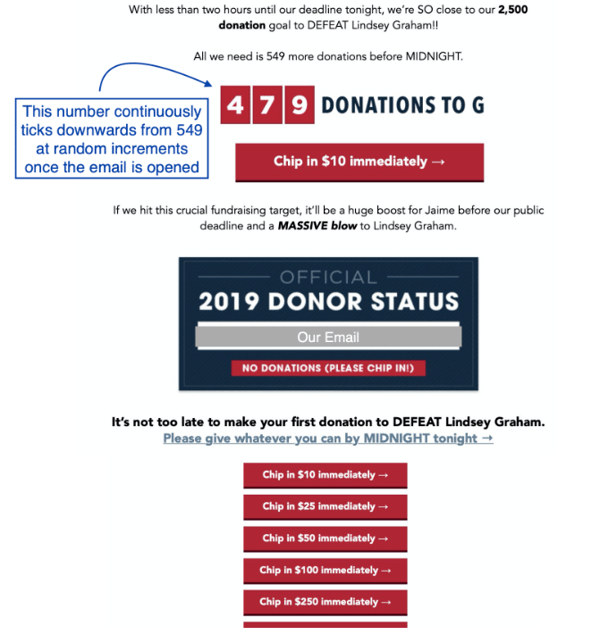 For nonprofits, these strategies and innovative tactics mean new fundraising opportunities. The campaigning will gain steam as we move closer to Election Day on Nov. 3, and there's no doubt we'll see even more digital innovation as a result.
We'll monitor each party's efforts and update this blog post as they progress.