Most nonprofits have already bought in on the power of digital media as a fundraising tool. But considering the constant evolution of technology, it can be difficult to keep up with all of the latest and greatest innovations.
That's probably why you hired an agency for help – but it's still important to have a basic understanding of the tools and tactics being used behind the scenes.
With that in mind, we've put together a guide covering some of the basic things you need to know about SEO and PPC, as well as our answers to a few of your commonly asked questions.
Let's start with the basics:
SEARCH ENGINE OPTIMIZATION (SEO)
SEO involves optimizing your website and your webpages so that they rank in organic search results in search engines like Google and Bing. Organic is the keyword here – you're not paying to be here.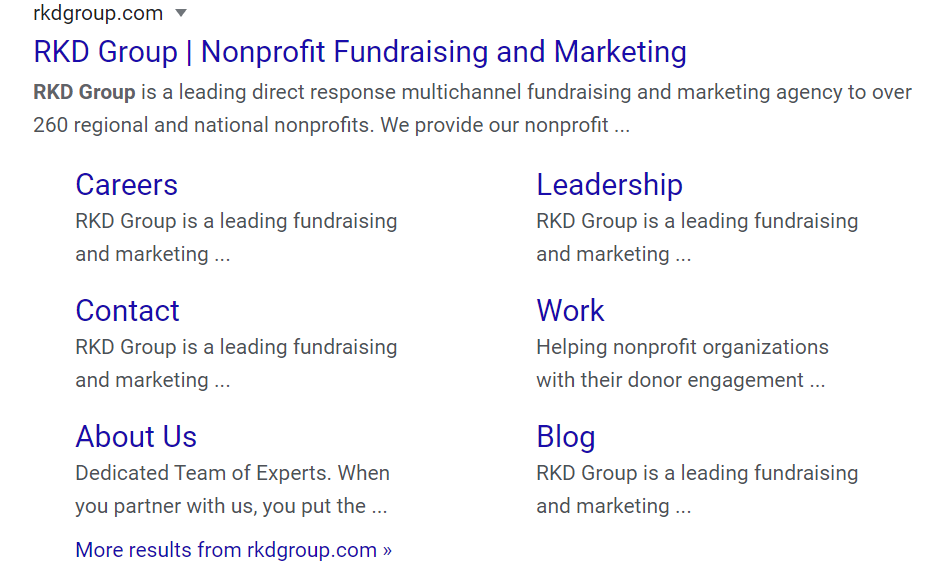 The better your SEO, the higher you will appear in organic search rankings. This requires a content-heavy approach, with copy built around keywords and webpages optimized to appeal to Google's search algorithms.
Executing an effective SEO strategy requires regular maintenance and a constant stream of fresh content. This can be difficult for nonprofits to keep up with, but that doesn't mean you should write it off.
A well-run SEO strategy can build in brand awareness and credibility when donors see you ranking at the top of their search results.
PAY-PER-CLICK (PPC)
PPC is a form of paid advertising. In this case, you pay for clicks (hence the name) to your website. Many different businesses use the PPC model, but in this case, let's focus on Google Ads.
With PPC ads on Google, you'll see the word "Ad" bolded next to search results.
Because this is paid, you'll get faster search results here than you do with SEO.
PPC allows you to control the URL you send traffic to, helping get users further down the conversion funnel by reducing the number of touch points before donation.
You can also perform A/B testing to see what's working best and break down targeting based on specific audience profiles.
On the downside, PPC can get expensive and competitive. If you're jockeying for the same keywords as other organizations or companies, you can spend a large chunk of your budget before you see success.
That's why it's important to have a partner with a deep understanding of PPC to help you make strategic, cost-effective optimizations.
Now let's dive into some common questions about the two.
IS SEO OR PPC RIGHT FOR MY ORGANIZATION?
Ideally, a marketing strategy that includes a mix of the two would be best. For nonprofits, you can also use your Google Grant to offset some of the cost of PPC, so why not take advantage of the free advertising spend?
However, it is important to note that Google Grant ads will appear under other paid ads.
As we mentioned before, PPC can be competitive and expensive. That's why it's best to supplement it with a strong SEO foundation, so your website is ranking organically and building authority, too.
WHY AM I NOT SHOWING UP IN MY GOOGLE SEARCH?
If you're not appearing in organic search results, this could mean that your website isn't properly optimized to show up in the first few pages of the search terms you want to rank for. It could also mean that your market is highly competitive, which is why SEO optimizations are even more important.
If you can't see your PPC ads, this could be due to a number of reasons.
PPC advertising is run by a bidding system – meaning advertisers are competing against each other to have their ad displayed in a certain slot for a given keyword. This leads to fluctuating results.
Because there are so many factors that go in to whether an ad will show up at a given time, constantly searching could end in disappointment or confusion.
But this doesn't mean your efforts are unsuccessful. The best-run PPC campaigns require optimization and careful eyes managing them throughout their lifetime.
We advise that nonprofits avoid spending too much time looking for your own ads. Searching your list of keywords can lead to more harm than good.
When used properly, a combined strategy of SEO and PPC can make a huge difference for your digital media programs. Don't let the complexities keep you from participating – you may get left behind.