For years now, we've heard the same question from nonprofit organizations: Why doesn't Bing have a program like Google Ad Grants?
Well, Microsoft just dropped a big hint about its upcoming plans for nonprofit advertising grants.
A Microsoft Advertising representative named Katrina wrote in a customer support forum that the tech giant recently ended a pilot program for advertising grants called "Grants for Social Impact." That may not seem like much, but admins don't just respond to nine-year-old forum questions out of the blue.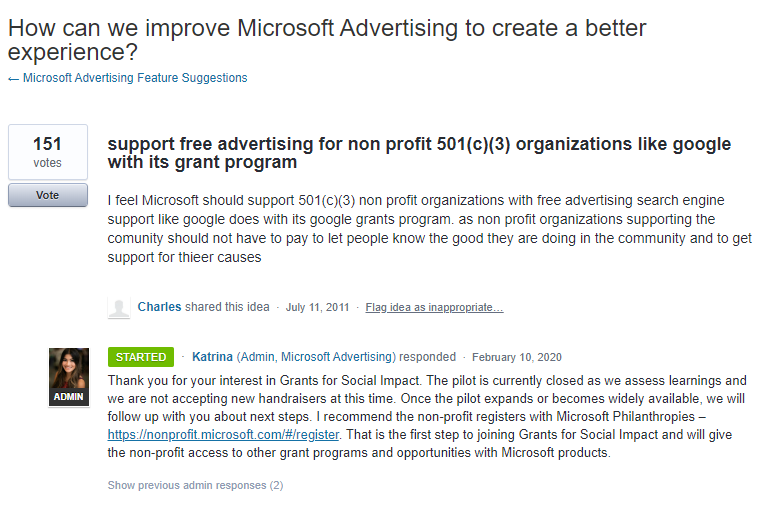 Microsoft is still evaluating the results of that closed pilot, so it's unclear when the full program will be available to the public. However, as a Microsoft Advertising Partner, we reached out to our contact to get the inside scoop on some details.
Here's what we found out:
As you might expect, Grants for Social Impact will be similar in structure to Google Ad Grants. The basics are that the program will provide nonprofit organizations with free monthly advertising grants. These can be used to connect with donors and volunteers to spread awareness and interest in your cause.
The big question at this point is how much credit Microsoft will provide nonprofits. Google Ad Grants gives $329 per day, which adds up to about $10,000 per month. With the right strategy in place, you can do a lot with that kind of ad money.
We do know that only nonprofits with a current and valid 501(c)(3) status in the U.S. will be allowed to participate, and you must have a functional website with details about you and your mission.
Currently, only nonprofits in the U.S., U.K., France and Germany are eligible, and several types of groups are also excluded:
governmental organizations
hospitals and medical groups
schools
childcare centers
academic institutions
universities
The ads will be limited to searches on Bing.com, not on Microsoft search partner sites. Grant ads are also only valid on text ads, not display ads on the Microsoft Audience Network.
A few other restrictions include:
Ads must reflect the mission of the nonprofit
Nonprofits can only sell items if 100% of the proceeds support the program
Ads must link to the same web domain (i.e., not to your Facebook page)
Branded terms not owned by the nonprofits are not allowed
For now, we can't do much other than hurry up and wait. But we are recommending that nonprofits register with Microsoft Philanthropy to expedite the process once it's live. Eligibility verification can take up to four weeks to complete.
Microsoft currently helps out nonprofits with discounts on software products like Azure, Office 365 and more through the Microsoft Nonprofit Portal. If you're a part of that program, you're already registered and ready to go.
Stay tuned for further updates. We'll let you know as soon as we find out more.