Marketers around the globe got a welcome piece of news recently: Google is waiting until late 2023 to block third-party cookies.
Hooray! We can all rejoice, right? The "easy" button still works, and we can keep pushing it whenever we want.
Nonprofits can just continue tracking what people are doing around the web and build a wealth of data to understand their behavior. When that behavior overlaps with what we're looking for, we can send out an automated ad or email to connect with them.
If you've been paying attention lately, it's not that simple. Reaching donors online is already getting more and more complex.
Data privacy is a hot topic across the U.S., and this calls for a new approach to digital fundraising that's rooted in first-party data. Nonprofit organizations need to act now to prepare for a dramatically different landscape in the not-too-distant future.
Laws and corporate policies are changing
A few years back, scammers started to abuse telemarketing with nonstop robocalls. People got annoyed. In response, markets and laws adjusted.
Today, every phone service company has an app that blocks spam calls. And federal legislation was passed to police this unwanted practice.
Sure, some calls still make it through—did you know your car's warranty is about to expire?—but consumers are in a better place now than they were five years ago.
Data privacy is following a similar path.
We know people don't like being tracked around the internet without their consent. And they don't like their data being swapped around and shared. Donors have told us as much.
Companies like Google and Apple are beginning to take notice of these preferences.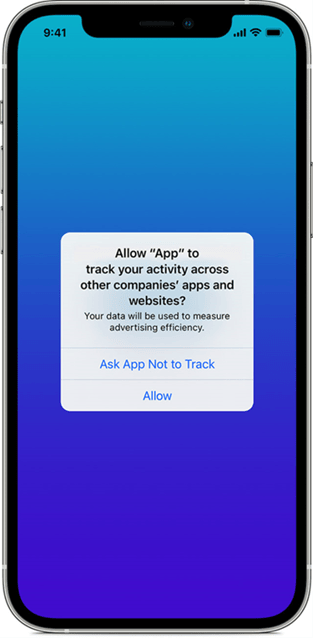 Apple's most recent iOS update now requires all apps to ask users for permission to track activity. Not surprisingly, only 5% of users have opted in so far.
Android phones will also be getting a new "privacy dashboard" where people can control app access to their data. And Apple is bringing similar privacy changes to email.
Google was hoping to say goodbye to third-party cookies by the end of 2021. It just turned out to be a bit more complicated than they initially thought. That's because cookies are used for so many tiny interactions across the web (not just behavior tracking), and the burden of finding a suitable solution in time was proving to be too heavy for many businesses.
Nevertheless, this change is coming. People don't want third-party companies spying on their behavior. People want consent-based tracking.
On top of these corporate shifts, legislation is slowly moving along toward creating data privacy laws across the U.S. Four states have already passed some form of data privacy law, with California's CPRA being the most comprehensive. It may not be long before we see a national data privacy law.
As we look to the next few years, it's critical to get ready for the road ahead now.
​Prepare now for a cookie-less world
The easy button will stop working soon enough. When Google dumps cookies, nonprofits will need to work harder to understand donor behavior, while also respecting people's privacy and giving them control over what information they share.
The good news is nonprofits will still be able to reach current and prospective donors with relevant information—if they have clean first-party data. That means you must have the policies and procedures in place to track every touchpoint that donors have with your organization.
I've written before about the importance of proper measurement. At the very least, you should be tagging traffic from all channels, with consistent naming conventions for those tags. You also should be monitoring regularly to find discrepancies and ensure data quality.
Think of your website as a boat that's being built as it's sailing. It's constantly being updated with new content, new information and new pages. Each of these changes has the potential to pollute your data.
Together, these steps will create a clearer picture of behavior as donors interact with your nonprofit through various channels.
The surge of charitable giving that nonprofits saw in 2020 is expected to return to pre-pandemic levels this year. This puts even more emphasis on creating meaningful experiences that connect with online donors.
Unless your organization can afford to reach out personally to every donor, you'll need to rely on your data and digital tools.
First-party data is key
Even without data from other sites, you have a wealth of information at your fingertips that you can utilize. That data may be spread out in different platforms and systems, so it's important to understand the full scope of what you have—and where to find it.
The first step is to audit and inventory your first-party data and document what data is needed for each vendor or partner. In a world without third-party cookies, this will be essential.
With the easy button, nonprofits were giving third-party companies full access to track their constituents around the web. In the near future, organizations will want to control what data is shared with partners and provide better transparency to their constituents.
You should also be connecting digital metadata to your first-party data through digital IDs, transaction IDs, email addresses and other matching techniques. Just to be clear: We're not advocating digital fingerprinting to get around tracking limitations—all of this data is earned directly through charitable gifts, engagement and signups.
With clean, connected first-party data, you can begin to deliver more personalized and meaningful experiences.
For example, our clients are able to recognize new or returning donors visiting their site or donation forms. We can identify whether a media-driven conversion came from a new or returning donor, then personalize messaging and experiences based on CRM data, gift history or site history.
We identify donors and other visitors in real time (milliseconds) before the web page or donation form loads, which allows our clients to trigger personalized content and experiences and inject valuable information about the donor or visitor into a data layer, form submission or CRM integration.
Data privacy changes are coming—and some have already arrived. It's critical for nonprofits to begin preparing now to smoothly navigate this changing digital environment.
Want more info about donor privacy?
Check out these related pieces: