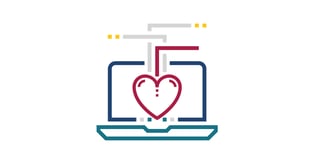 Fundraising in a pandemic has taught us a lot of things. From the switch to virtual events to the importance of data-led decision making, the fundraising landscape has forever changed.
And when it comes to digital media, it's no different.
When COVID hit, we saw media consumption and ad impressions spike at unbelievable rates, providing nonprofits a unique opportunity to grow their digital media presence, get in front of new donors, and build brand awareness.
Now, with the power of digital media as a fundraising tool firmly established, we've set the stage for a very interesting 2021.
In this blog, we're sharing the four main things nonprofit fundraisers and advertisers should watch for in the digital media space this year.
1. All eyes on Facebook
We hadn't even made it a month into the new year before Apple's iOS 14 update made a big splash in the Facebook advertising world.
In an effort to address growing privacy concern issues, Apple's update introduced three new policies that will directly impact how we advertise on Facebook.
You can read more details about the iOS 14 update and its implications here. In summary, these new policies have required Facebook to find a way to limit the transmission of data while still providing the critical advertiser functions nonprofits use to keep fundraising campaigns up and running.
As a piece of this, Facebook phased out 28-day click-through and view-through conversion windows at the end of January, which we expect to cause decreases in donations attributed to Facebook and increased cost-per-acquisition.
Thanks to these changes, this year will be a critical one for Facebook, and all eyes will be on the social media giant as the organization navigates the changing advertising landscape.
While this has caused some alarm within the nonprofit advertising community, I believe Facebook will still be a viable fundraising solution, but we'll be keeping tabs on the situation as it progresses.
2. Data is king
Speaking of data, we can expect it to remain a focal point in 2021.
Data privacy concerns and regulations have primarily focused on for-profit organizations. However, nonprofits were forced to join the conversation this past year thanks to the hack of Blackbaud that potentially exposed donor data.
According to a recent donor sentiment study RKD conducted in partnership with The Nonprofit Alliance, we found that 83% of donors were somewhat to very concerned about data breaches within nonprofit organizations. And when asked about nonprofits' use of data for things like personalization, the response was a mixed bag of emotions.
Donors are becoming more aware of and more concerned about how their information is being used to reach and target them online. The Facebook and Apple updates are just two examples of how these feelings are playing out in real-time, and we can expect more changes to come across the digital media space this year.
For nonprofits, this means a greater emphasis needs to be placed on how your data is being used by partners, vendors and platforms so that donors feel safe sharing their information with you.
3. AI leads the way
Remember the growth in media consumption we mentioned earlier? With that rise comes an increase in competition. More people consuming ads means more organizations taking advantage of the space.
While many nonprofits are wary to jump on the machine-learning train, artificial intelligence (AI) is one tool that our industry must embrace this year to stay competitive.
AI takes the guess work out of digital ads and makes it easier to navigate their complexities. By casting a wider net, it examines who engages with your ads the most and then optimizes your targeting based off its findings, creating a more efficient and effective digital media plan.
While it can take a lot of the day-to-day labor out of audience segmentation, it does require a practiced hand to maintain. Partnering with the right agency will ensure that you use AI to your advantage this year.
4. Video gains traction
The use of video ads is nothing new for nonprofits, but they've always been an upper funnel tactic used to reach wide audiences and were largely known for low view-through rates.
But last year, everything changed. People began to consume video content at astronomical levels, directly impacting the view-through rates and overall success of video ads. Though this change was brought on in large part because of the pandemic, I foresee the reliance of video as an integral component of media campaigns to be our new normal.
Connected TV (CTV) will play a huge role in this. According to a recent report, CTV ad spending in the U.S. is projected to reach $18.29 billion by 2024. That's more than double what was spent this year.
As nonprofits look for ways to diversify their ad spend and reach younger audiences in 2021 and on, video and CTV will be a critical piece of this push.
Digital media is an ever-changing landscape, and it can be challenging to keep up with at times. However, nonprofits who embrace digital transformation and the rise of media consumption will be set up for success this year and well into the future.