Keyword control just got a little bit harder with Google Ads' recent update to their match types.
In a Feb. 4 announcement, the tech giant shared that they will be changing their phrase match and broad match modifiers in an effort to make it easier to reach customers no matter how they're searching.
While that may sound great in theory, there are some underlying implications that have caused quite a stir in the PPC community.
As always, I'm here to share the details of this update and talk through the impact it will have on nonprofit organizations using Google as an advertising tool.
Updates to Google's match types
Google breaks down all the details in their announcement, but here's a quick recap:
Prior to the update, PPC managers and nonprofit advertisers were able to target people with three different keyword match types:
Exact match for precision
Broad match for reach
Phrase match and broad match modifier for both
Now, with this update, attributes from the broad match modifier will flow into phrase match, expanding the amount of traffic that those using phrase match can reach.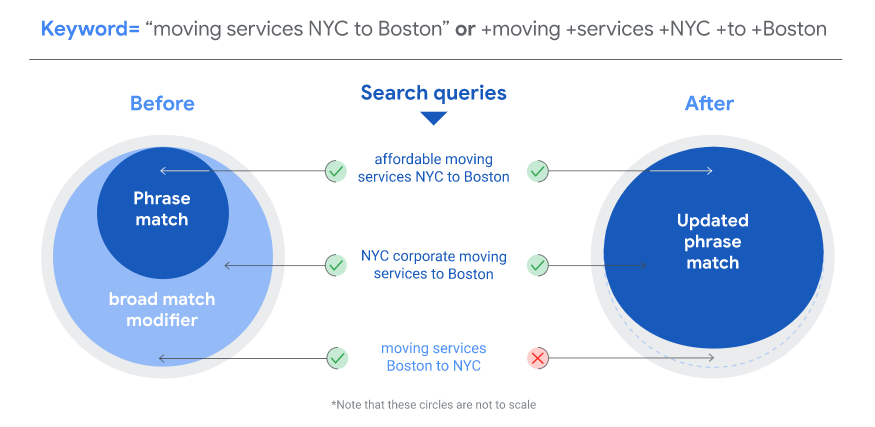 How it impacts nonprofits
What exactly does all of this mean for nonprofits? Previously, we were able to leverage phrase match to target specific phrases exactly as they appear.
Now, with the updated phrase match, we see traffic from similar, but not as relevant searches, and exact phrase matches are much harder to do. Here's the example that Google shared: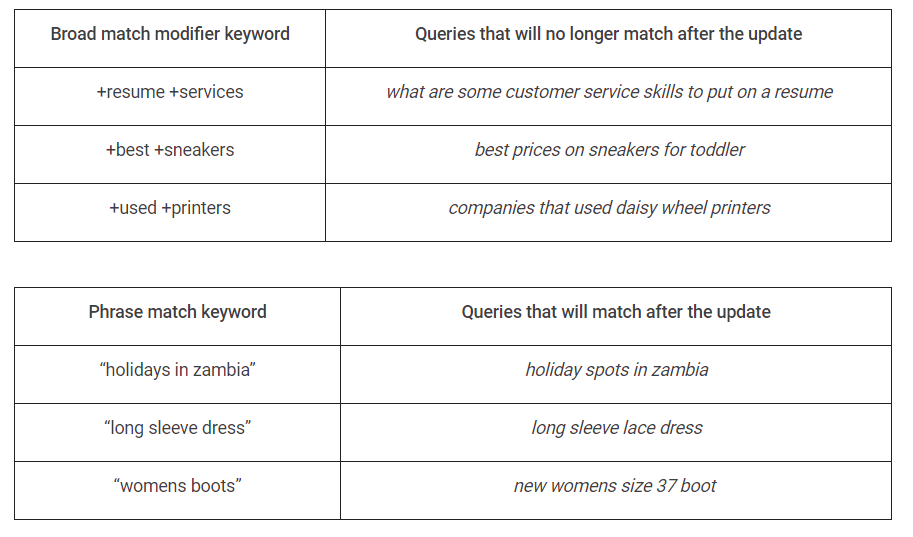 While the new matching queries may not seem like a huge change, when we explain this in search terms relevant for nonprofits, you can see just how big of an impact it could make:
If your keyword is "food share," the new phrase match setting will now allow it to serve on searches like "how to share food" and "share food in myfitnesspal," which are not relevant to food banks looking to talk about their services.


If you're an animal welfare organization using the keyword "animal control," searches like "how to control your animal" and "control animals superpower" could now trigger your campaigns.
For nonprofits and PPC managers, it's important to focus in on your phrase match keywords as this change rolls out to see if your spend is going up.
Also, keep an eye on your search term reports in Google Ads to find any terms that are driving unqualified traffic and add those terms to your negative keyword list. Any current and future negative keywords won't be impacted by this update and will continue to have a true match type meaning.
Additionally, Google has stated that your existing broad match modifiers will continue to operate as they have in the past, but if you choose to convert them to the new phrase match update, all reporting will not carry over.
As Google continues to make more updates to their algorithm, it's likely that we'll see more advertisers shifting money into Microsoft Bing Ads and other digital media platforms, creating an increase in competition.
Want more? Check these out: