Nonprofit organizations appreciate donations that come in all shapes and sizes. Anything helps when it comes to serving the mission, right?
But not knowing where a charitable gift came from can be a pesky thorn in any development team's side. That's why we're here to discuss the true color of whitemail and its impact on fundraising.
In this blog post, we'll review the basics behind whitemail, what we know about donors who use it and how best to connect with those donors after the gift.Simply put, whitemail refers to donations received without source identification, typically in generic white envelopes. That means there is nothing to indicate what drove the donation.
Attribution is key to understanding which fundraising efforts drive which donations, and it's complicated enough in today's multichannel marketing world. Nonprofits want to know what inspired the donor to give and where they saw the message that spurred the gift.
Whitemail throws a monkey wrench into the attribution matrix, hindering the ability to measure the effectiveness of fundraising and marketing efforts.
Data shows that whitemail does not seem to align with big direct-response communication efforts. The stream of whitemail is quite steady year-round, with a small spike in December.

That means whitemail most likely reflects an aggregate result of marketing efforts, especially at the personal level via word of mouth. As such, whitemail donors are typically more generous than the average direct-response donor.
What do we know about whitemail donors?
In today's digital age, whitemail is more common than you might realize.
Typically, about 10-20% of donors make whitemail donations! And more than half of whitemail donors made their first gifts using whitemail. Whitemail also tends to be more popular at regional organizations (like hospitals) than at national ones.

Here's the good news: These whitemail donors bring great value—and they stick around.
While whitemail donors often make up a small proportion of acquisition, they usually deliver the highest long-term value (LTV) to an organization. Here's a look at a large national nonprofit organization, breaking down the source of acquisition:

Whitemail donors bring in the highest first gift. Their LTV is even more impressive! The reason why is the strong retention rates for these donors—when cultivated properly.
In the example below, whitemail donors have a higher renewal rate than direct mail donors in every year following acquisition:

How to connect with whitemail donors
Clearly, these whitemail donors are a great asset for nonprofits. Let's look at how we can encourage these donors to stick around and build a connection with the organization.
Not surprisingly, direct mail is the key. After all, these donors gave by mail in the first place, so it makes sense that you should continue to cultivate them in the mail.
When whitemail donors donate after the first gift, direct mail makes up 44% of the revenue. However, it is interesting to note that 27% continues to come through whitemail.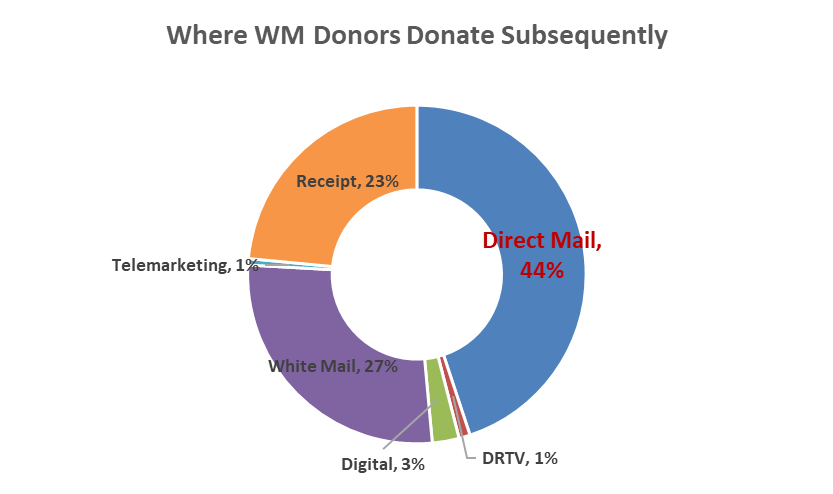 The cost of conversion to direct mail is also much lower for whitemail donors when compared with DRTV or digital donors:

One final item to note is the recent rise of donor-advised funds (DAFs). When donors choose to give through DAFs, they are more likely to pick whitemail as the carrier of their donations.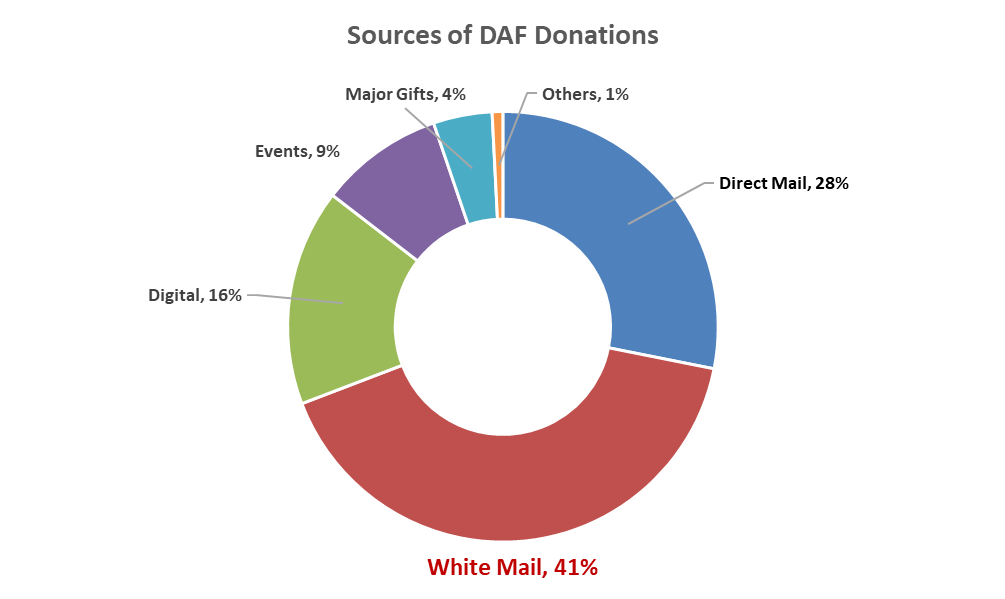 Contributions from DAFs made up 12.7 percent of all charitable giving in 2019, and the COVID-19 pandemic has sparked a remarkable rise in DAF giving. That makes whitemail an important trend to monitor in today's fundraising ecosystem.
All in all, the true color of whitemail for fundraising appears to be green. And it is getting greener.