Many relief and development organizations have received unprecedented support from donors after recent disasters, such as COVID, recurring natural disasters and the war in Ukraine.
These disaster donors are an essential part of helping organizations provide relief for those who find themselves in an emergency, and they can help organizations scale up response as needed. But many of these donors stop supporting the cause once the emergency fades out of the news.
So, how can relief and development organizations shift this perception to gain more year-round support? Even more importantly, how do we ensure donors who do give during disasters convert into committed supporters?
It starts with branding.
Create a consistent brand presence
Building a stronger brand presence allows potential donors to learn more about your organization's values, goals and beliefs―not just what you provide in an emergency. This can be accomplished by moving away from constantly speaking about conflict and instead focusing on the other work and programs a donor's gift will help support.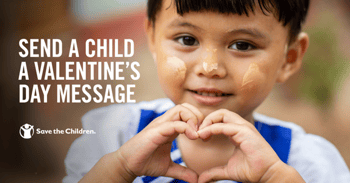 For example, Save the Children has been working to build a consistent brand presence year-round, running campaigns on major global days such as Valentine's Day, Day of the Girl and Mother's Day. These educational and evergreen campaigns help the public see them as more than just an emergency aide.
Relevancy also helps improve brand presence. Save the Children recently partnered with Mattel, the owner of Barbie, to donate portions of Barbie-product sales to support their Rural Education Programs. With all of the current buzz surrounding the new Barbie movie, this collaboration allows Save the Children to stay relevant and expand their reach while also supporting a key part of their mission.
Broaden your subject matter
When you do decide to focus on a specific emergency, broaden the subject matter.
Start with a specific story, then transition to how your organization is helping year-round, not just when disaster strikes. This allows your donor to first understand what the current emergency is and then how your organization is consistently helping even when there is no pressing emergency.
Here are a few ways relief and development organizations can broaden subject matter:
Test to see what programs disaster donors respond to: Segment messaging across emergency donors to deliver a range of topics that cover your key program areas.
Use your data: From there, use response and conversion data to understand which programs emergency donors are most interested in.
Add donors to evergreen campaigns: Add new disaster donors to evergreen media campaigns so they can learn more about the breadth of your programs and get to know your mission better.
When you focus on your brand presence and broad messaging, donors will look to you beyond just when disaster strikes.
Médecins Sans Frontières (MSF), or Doctors Without Borders, experienced a spike in donations when war broke out in Ukraine. Despite not having a dedicated donation form for Ukraine efforts, the organization saw an influx in gifts thanks to the brand presence they had established ahead of the crisis. Donors understood MSF's mission and knew that they would provide help in Ukraine, even without prompting.
And, in order to continue to convert these new disaster donors, MSF utilized an evergreen media campaign to bring awareness about how they provide medical humanitarian assistance no matter where or when a crisis occurs.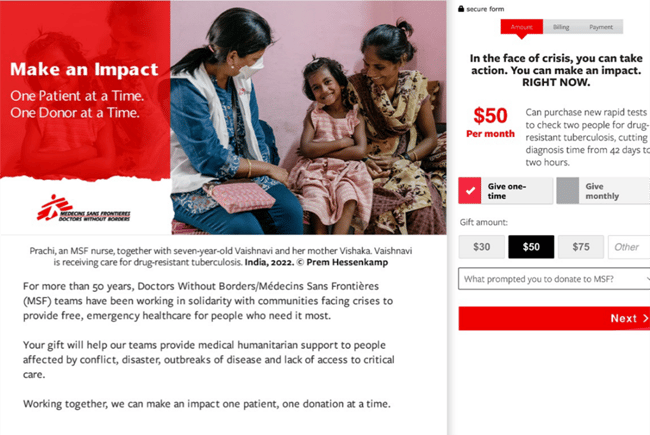 These are just a few ways we're helping relief and development organizations pivot from being seen as just emergency relief causes. By focusing on brand presence, relevant partnerships and expanded messaging, you can retain emergency donors and engage with a broader audience year-round.
Additional Resources