EMAIL DO's
You're sending emails, but are they reaching full potential?
Tips for increasing your email marketing fundraising efficacy.
1. Resends
Resending your email appeals is an easy way to lift results. We see 10-30% lifts in revenue when adding resends to campaign strategies. There are a few ways you can resend your email, and depending on your email service provider, implementation should be easy. Try out these resend tactics and see which works best with your audience:
Resend to Unopens
Resend Same-Day
Resend with a Faux Forward
2. Add Gift Arrays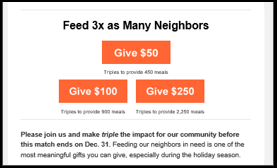 Adding a gift array to your email is an easy way to bring recipients one step closer towards a donation. Take it one step further by using bright, noticeable colors for your gift array buttons.
Replace the Donate button with array
Use color to improve UX
3. Try Out a Weekend Send
People tend to think that email is only checked M-F, 9-5. Business hours right? Wrong. Remember donors are also checking their email on their phones, and when are people on their phones? All the time! Maybe not all the time, but definitely outside of business hours.
Don't fear Saturday & Sunday email sends
Great days to test resends
4. Test Content Length
Some donors enjoy reading stories, while others prefer pictures and little text. Whatever story you tell, it may be different and vary between donors.
Test various copy lengths
Segment donors based on content preference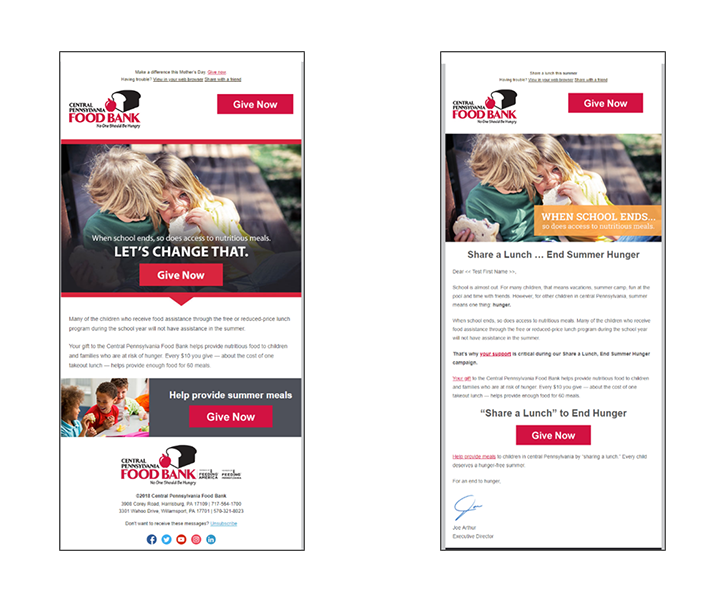 5. Maintain Email File Health
A strong and updated donor email file will help keep you up to date on who to continue and discontinue contacting. Just by cleaning your email file, you'll uncover a handful of contact types. With this knowledge you can:
Develop campaigns based on engagement levels
Improve deliverability by removing inactive contacts from lists
6. Re-engage Lapsed Contacts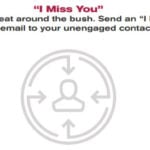 You have a strategy to re-engage lapsed donors, but what about lapsed email contacts? Send a campaign to your lapsed contacts and see who you can re engage via email. Also, try to re-engage those contacts with additional marketing channels like Facebook or Display advertising.
Segment for lapsed donors
Test marketing channels outside of email
7. Plan to Test!
Once you've developed a set plan for different strategies and tactics you'd like to test, it's time to put those into action. Some tests may provide impressive results - and some may seem like a flop. No matter the result, there will still be available data that can be pulled to help you learn what does and doesn't work for your donors.
Take learnings from every test
Have a plan for no winner
Pro Tip:
Create a testing log to track what you test, when you test, and the key takeaways.
8. Give Back
The best way to engage with donors is to give back via communication. Here are examples of ways to create more of a relationship with donors. This way it won't feel one-sided after they decide to give to your organization. Build a relationship by sharing:
Recipes from your kitchens, partners or local restaurants
Holiday greetings
Shareable tips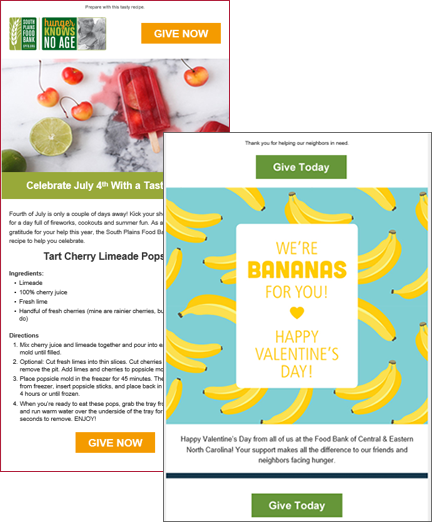 9. Say Thanks
Just showing your appreciation for the donors' gift can go a long way. One way to show them this is by sending a thank you. Some donors even feel compelled to give more once they see this donation was appreciated and put to use. Reporting back on a campaign can also be a way to say "Thank You." Donors want to know that their gift really did make a difference and made an impact on the people they were trying to help.
Report back on a campaign
Thank donors for giving
Show donor money at work
ANALYTICS DO's
Gain full insight into your campaign effectiveness. Implement these tactics for a more sophisticated analytics program.
10. Ecommerce Setup
Ecommerce tracking is not just a Digital Do, it's a Digital Must. Take the time to set up ecommerce tracking in Google Analytics. This will help you analyze where donations are sourced, and what marketing efforts are the most valuable for your fundraising revenue. Our top four tracking priorities are: Real-time Revenue Tracking, Comparison Reporting, Page Values, and Email Revenue. Here is an example of what revenue tracking could look like in Google Analytics:

11. Create Segments
By taking your traffic and splitting them into different groups based on factors like age or giving level and giving amount, you can find details like:
Deeper insights on who is visiting your website and their behavior
Demographics by visitor type
12. Use UTM Codes
UTM codes can help you track your campaigns within Google Analytics. These simple parameters can be added to any URLS that you're adding to webpages, emails, landing pages, and social media posts. Google even has a handy tool for building a URL with UTM parameters. Here's an example of one:

13. Create Google Analytics Events
Within Google Analytics, events are user interactions with content: downloads, link clicks, form submissions, video plays, etc. Setting this up in your GA account can help you track engagement and see what web content is the most successful. Here is an example of event analytics for this lightbox:
14. Build Custom Dashboards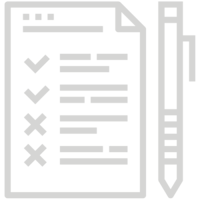 You know what data is the most important for your organization, so why not put it front and center? Build custom dashboards in Google Analytics, so that you can see that pertinent data right away. You could keep digging around for each chart, but who has time for that?
See the data you need
Great for senior management and Board reporting
15. Know Your KPIs
This demonstrates how effectively your organization achieves objectives and reaches certain business targets. Here are some of our frequently used KPIs:
Website Conversion Rate
Main Donation Form Conversion Rate
Average Gift
% of traffic from All, Donors, Clients
Email Open Rate
Email Response Rate
Email Average Gift
ACQUISITION DO's
Tips for increasing your donor list and email list.
16. Add Donation Form Opt-In's
Ask your donors to opt-in to your email marketing and updates at the donation form. They're already filling in their information, so it's a great place to add a simple checkbox. Data regulations are becoming the norm, so getting permission to email your donors and supporters is more important than ever.
Include option to opt-in on thank you pages
17. Use Widgets
Widgets are a great way to direct traffic to your site while expressing your brand. Try to display them in spaces that will have the best chance of being seen, such as blogs or social media posts.
Small boxes to drive email sign-ups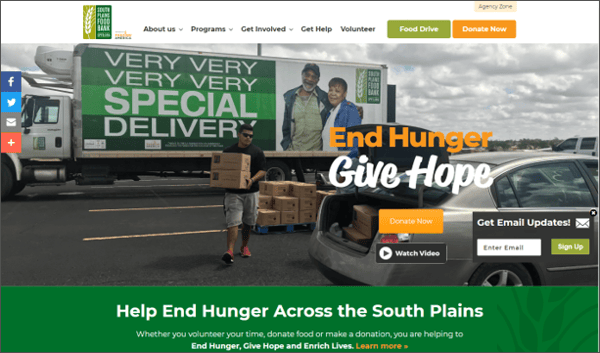 18. Landing Pages
There are many important factors to keep in mind when creating landing pages, such as design, CTA placement, etc. Build landing pages with content that is strong and geared toward the overall goal of driving your donors to sign up to receive emails.
Create content that reinforces your subject matter authority and impact
Create content that resonates with your audience
19. Google Ad Grant
When building a google ad grant strategy, you want to focus on advertisements that are strong enough to bring in new donors. You also want your ads to encourage them to sign up via email.
Increase your relevance via search
Benefit from paid search expertise via Google Ad Grant Certified Pros
Use ads to promote email acquisition
20. GDPR Best Practices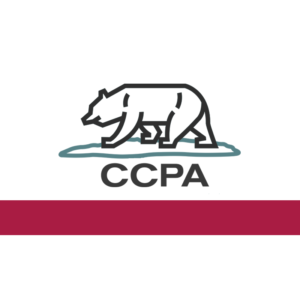 GDPR is the General Data Protection Regulation, agreed upon by European Parliament, regulating how companies use EU citizens' personal data. How does this effect you? If any European citizen provides you with their email address or visits your site, you are held to GDPR requirements. Data privacy acts are making their way to the US, for example, CCPA, which applies to the collection of data of California residents.
Review your data practices ASAP!
Implement email opt-in's on donation forms
Do NOT use third-party lists for email acquisition
OPTIMIZATION DO's
Tips for taking your website to the next level.
21. Look at Main Navigation
Take a look at the design of your main navigation panel. Can donors quickly and easily find a donation button? If not, it's time to consider some simple changes to your navigation design. Your main navigation bar should include:
Prominent Giving Button
Multiple Giving options

22. Remove Friction on Action Pages
When donors are on your donation page, that should be their sole focus: donating to your organization. Be sure to remove top navigation and sidebars so they will have nothing else to distract them from giving a gift.
Optimize for mobile
Include mobile payment options
Remove Top Navigation
Remove Sidebars
23. Test. Test. Test.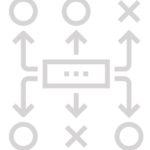 There's only one way to properly determine whether or not a certain marketing campaign is working: testing constantly. This way you will know what does and doesn't work in your nonprofit marketing material. Easy things to test on your website include:
Gift Arrays
Copy/Images
One-Time/Monthly
24. Mobile Friendly
Before a campaign is fully complete, you must review the UX on a mobile device. Be sure to check the following formats for proper mobile optimization:
Email
Donation Forms
Landing Pages
Website
CLOSING THE GAP DO's
Don't leave money on the table! Campaign tips that can help you close the gap on digital fundraising goals.
25. Match Campaigns
This is a great way for donors to feel more inspired to give. By matching a donor's gift with a double or triple amount, they feel their donation is helping more people, which inspires them to give more and more often. Try implementing the below match campaigns for an effective result:
One-day only match
Match to lapsed donors only
26. Fiscal Year-End Campaign
Year-End campaigns are a great way to gain extra donations. Let donors know you've reached the end of your budget cycle, and that the end of the year is the most crucial time to receive gifts for those in need. Don't be afraid to create a sense of urgency.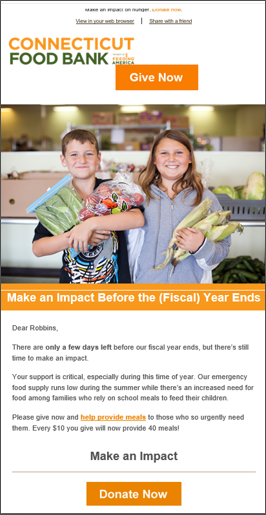 27. More Emails
Let donors know how close you are to reaching your goal. You can increase donations by using email to urge donors to give more using the campaign tactics below:
Expand campaigns
Extend a match
Resends (See Do #1)
28. Lightboxes
Showcase a lightbox page on all pages excluding your Get Help or Find Food pages. Lightboxes pop up when a user visits your homepage or a designated landing page. Implement a clear CTA and make it easy for visitors to act.
Pro Tip:
Be aware of Google's lightbox parameters for mobile, and consider supressing lightboxes from mobile display.
29. Facebook Fundraisers
Facebook fundraisers are very popular amongst most donors. Make them
more aware of this option by taking the following actions:
Let constituents know it's an option
Feature a donor who's created a Fundraiser
Create your own Fundraiser campaigns
Pro Tip:
This is a great way to encourage your staff to participate in fundraising.
30. "Emergency Appeals"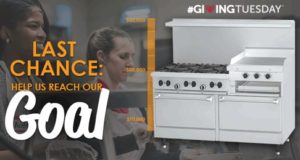 Never be afraid to reach out to donors when an emergency has struck. Let them know their gift is needed. Below are examples of common emergency appeals:
Government Shutdown
Hurricanes
Polar Vortex
Flooding
Broken Pantry Stove