In the last six months or so, we've been discussing the term "digital maturity" with a lot of nonprofit marketers.
That's because the COVID-19 pandemic has launched us all forward into a new digital era. Social distancing and lockdowns forced us to find new tools for communication, interaction and commerce. We're now regularly using online platforms to order groceries, view a restaurant menu, meet virtually with co-workers, stream TV shows and so much more.
This chart by McKinsey & Company shows the explosive growth of digital customer interactions in 2020: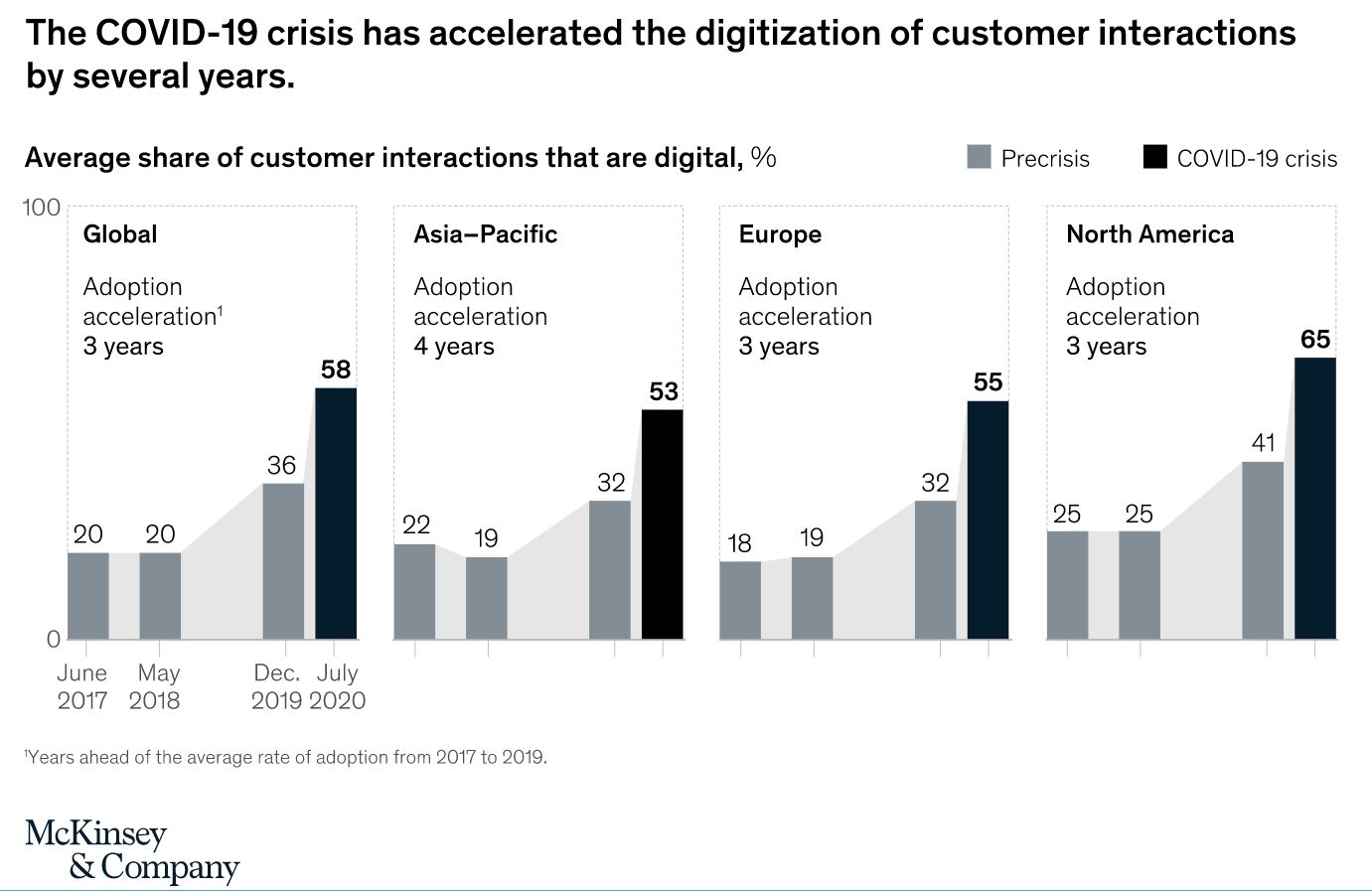 And, of course, donors are using digital channels for charitable giving like never before. In 2020, there was a clear revenue gap between those organizations with established digital programs and those who were simply not ready.
Hopefully, you've already done the basics and built a solid foundation in digital fundraising. In this blog, we'll talk about what nonprofits need to reach the next level of a sophisticated, future-ready digital program.
(If you're not sure where your program sits, I encourage you take our digital maturity quiz to get a quick assessment.)
Proper measurement is essential
Data is everywhere.
We create it with every browser search, text sent and pause while scrolling our news feeds. We enable data with every click or impression served.
In order to build a sophisticated digital program, you need to understand the behavior of your donors—which webpages they're visiting, which channels they like, why they're abandoning donation forms, which messages resonate with them, etc. Having the ability to monitor the data will help you make smarter choices on where to invest money or spend time.
That means you need to be measuring everything. Take the time to do a full audit of your digital program and figure out where your gaps are.
For a deeper dive into measurement, check out this blog post by our VP of Technology, Charles Lehosit.
Build donor journeys
Once you have a better understanding of your donors—how they're reaching your donation form and how they navigate through your website—you can begin to build effective donor journeys.
On a basic level, you should be thoughtful about the messages, images and channels you're using at each step of the communication process:
Prospecting: How can you make an impression on those who are not yet aware of your organization and your mission?
Engagement: Once they know who you are and what you do, how can you connect more deeply with them and bring their attention to your cause?
Conversion: You've got their attention—how do you convince them to turn interest into action and donate?
Retention: After they've donated, how are you continuing to nurture this relationship and retain these donors?
Each donor takes their own path along this journey, but it's important to design a path for them to follow that guides them from one stage to the next.
Personalize your messages
Once you know what your donors want and you can guide them to where they want to go, you can get more sophisticated with how you speak to them.
We're not talking about building personas based off demographics here—that's a different discussion. Again, this is tied to behavior.
Think about it this way: You just donated to an organization for the third time, and you received the same "thank you" email, inviting you to learn more about their programs and mission. That would feel pretty cold and impersonal, right?
What if, instead, the email thanked you for your continued commitment to the organization and highlighted the impact your gifts have made? Big difference, right? The same can be done on a website—delivering a different message to current vs. prospective donors.
This might seem minor, but amazing things happen when you deliver the right message to the right person at the right time.
Create new opportunities
With an advanced digital program, you can build a strong digital following. Then, you can begin to think of new campaigns and promotions that engage your online audience.
We all know virtual events were a big hit during the pandemic, and they're not going away anytime soon. One big reason is that they engage audiences who would never go to a fancy ball or society event. They can stay at home, watch on their laptop and enjoy the show.
We've also written before about creating your own giving day.
Why wait for Giving Tuesday to come around after Thanksgiving? With the right digital tools, you can start your own annual giving day and promote it online.
The possibilities are endless with a mature digital program.
Look ahead to the future
Finally, we know the digital space is constantly evolving and changing. Remember: The whole reason behind this post is that we're going through a dramatic shift in the digital landscape spurred by the pandemic.
The next big change we'll likely see is around donor data privacy. In fact, these changes have already begun:
It may not be long before a national data privacy law like Europe's GDPR emerges in the U.S., putting a greater emphasis on first-party data and user consent.
In the meantime, it's critical to keep your finger on the pulse of digital marketing. As new channels and tools emerge, you'll be able to adapt and stay of ahead of the curve with a cutting-edge, mature digital program.