Donation page design is both science and art. We've seen small design changes make big impacts. Colors, fonts, and images influence conversion rates and gift size. We even have a blog, Current Donation Page Best Practices, that can tell you all about these important design elements.
As helpful as a list of best practices is, we also know that examples are the best form of reference when it comes to design. While curating our list of best practices, we saw a ton of beautiful donation form designs that have been tested and proven to be winners. Here are 12 of our favorite donation page designs.
1 – Public Citizens for Children + Youth
This donation form can be summed up in one word: vivid. Audiences are visual and it plays an equal part to copy in creating emotion. We love that they built a donation form that uses engaging imagery with a header that reinforces why you should donate. If your brand is colorful and vibrant, your donation page should be too.
Lesson from these guys: beautiful design and powerful copy can't be beat.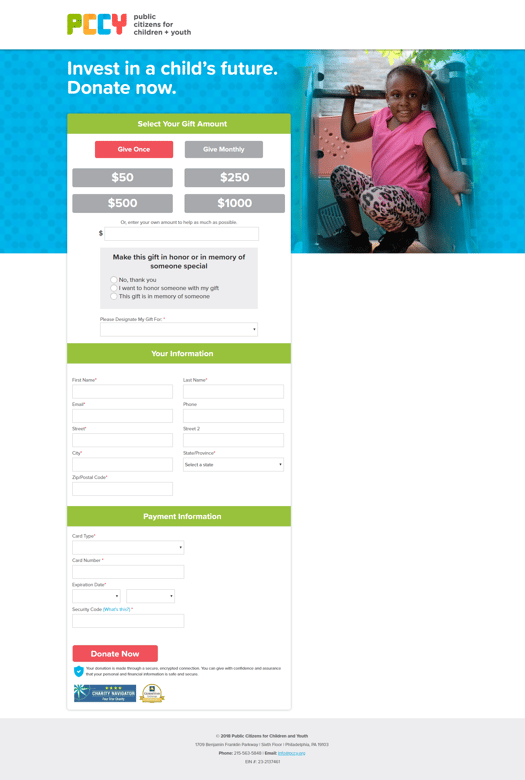 Donate to Public Citizens for Children + Youth
2 – Coast Guard Foundation
Do your donors know the impact of their donation? They might, but we think it's always a good idea to remind them.
We like that this page design provides a space to reiterate the impact of a donation. The Coast Guard Foundation used this right-hand column to address all possible drivers for donation; country, education, children, family, etc.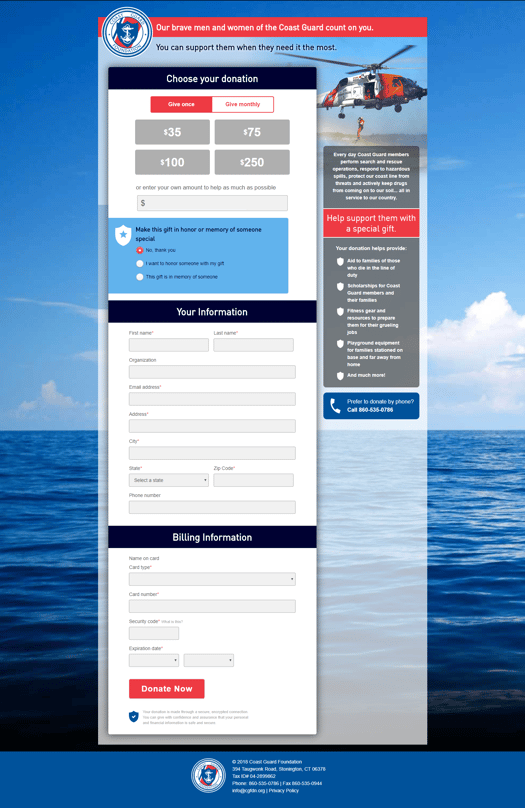 Donate to The Coast Guard Foundation
3 – Los Angeles Mission
This donation page design is one of the most unique designs in this blog. First, you'll notice that they did not include the entire donation form on the page. The Los Angeles Mission has broken up the donation page into a multi-step form. This gets donors to commit to an amount before moving onto the next step.
We also love that they are providing the option to donate via PayPal. You see PayPal as an option on many ecommerce sites, why not donation forms too? If your fundraising platform allows modern payment capabilities such as PayPal or Apple Pay, we say use it!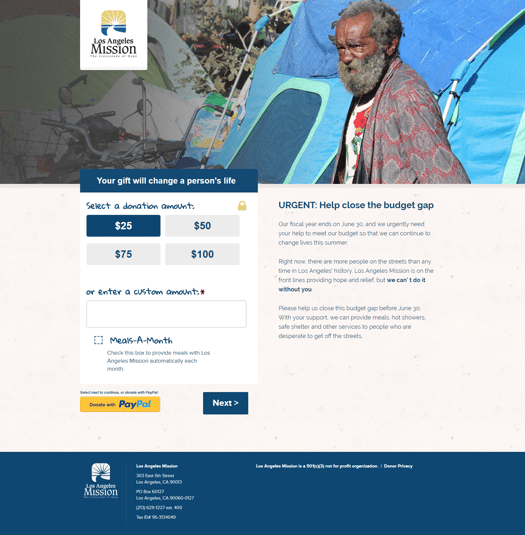 Donate to The Los Angeles Mission
4 – Vietnam Veterans Memorial Fund
Like the Los Angeles Mission, this donation page design breaks down the donation form into steps but keeps to a single page design. If your fundraising platform allow for the customizations like the one above, consider the copy and design elements used here.
The sub-header outlines that it's "just 3 easy steps" to make a donation. They have also broken up the parts of the donation form with the red section dividers. These are easy to implement design tricks for any pages that are experiencing high rates of form abandonment. Just make sure that your form is as short as possible, especially on a mobile device. If you can avoid any unnecessary form fields (such as birthday and gender) try to do so.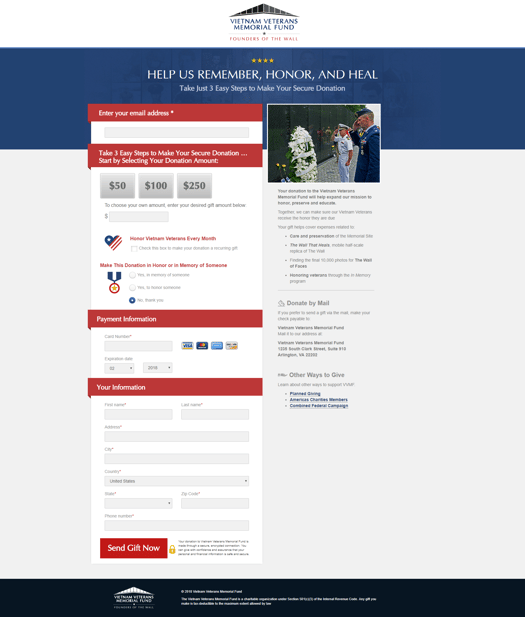 Donate to The Vietnam Veterans Memorial Fund
5 – American Bible Society
We love a cause that can display donation amounts in terms of impact. It creates a direct connection to what motivates the audience to donate. For the American Bible Society, it's bibles, but this tactic is also great for food banks and animal shelters.
The form is practically asking, "How much of an impact do you want to make?" Donors are prompted to think about their donation in terms of bibles instead of dollars. Implemented correctly, copy like this could give a boost to your average donation amount.
Donate to American Bible Society
6 - Ann & Robert H. Lurie Children's Hospital
Is it a Thank You page or a donation form? It's both. This pretty donation form was a thank you page following participation in an email acquisition campaign. We've included this design because of its eye-catching design and use of social media.
The header image is impossible to miss and lends a lot of vibrancy and character to the overall look of the page. The social media buttons allow for easy sharing of the campaign. Visitors can easily invite their friends to participate in the campaign, supporting potential donor acquisition. A great use of a donation page header space.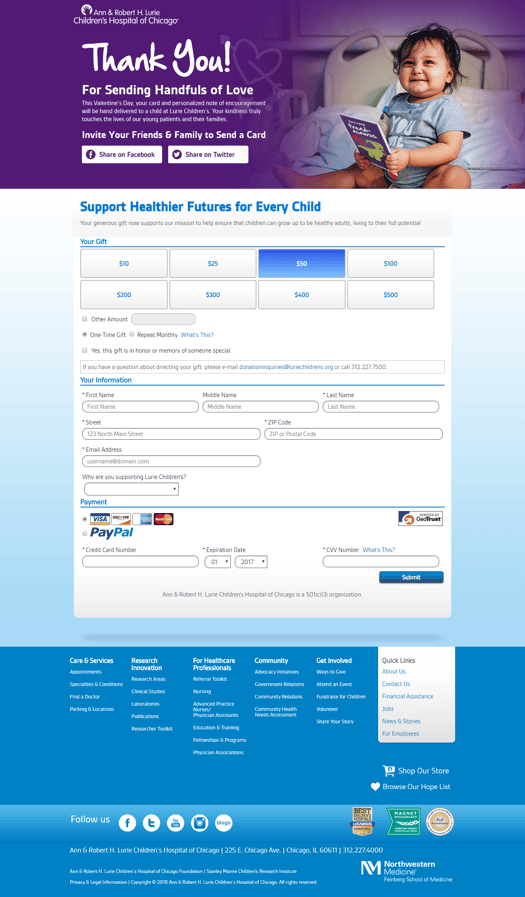 Donate to Lurie Children's Hospital
7 - South Plains Foodbank
A design that meets brand standards is so important (#9 on our blog by the way). If you're using a design template, be sure to update default colors, fonts, and images to match your branding. Send donors to a template that's off-brand and they might second guess their donation.
This donation page is an excellent example of applying Feeding America branding. Feeding America has nationwide brand recognition and this page matches it perfectly. Green and orange are used throughout the design. Even the child in the photo is wearing a green shirt!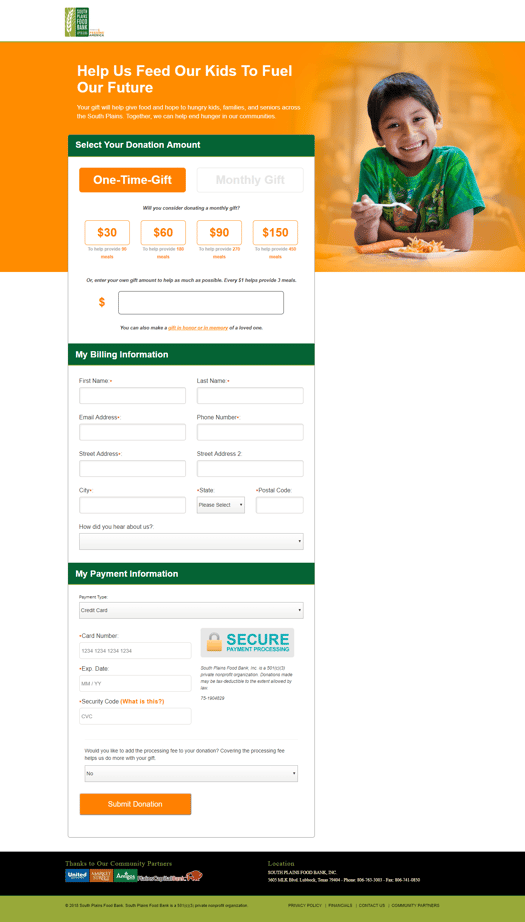 Donate to South Plains Foodbank
8 - Food Bank for New York City
If you look closely at this design, you'll see our favorite part. It's how Food Bank for New York City embedded a status graphic into the header of the donation form. As more and more donations come in, the graphic fills up to show how close they are to meeting their goal. We typically use this in lightboxes and emails, but it works nicely on this landing page.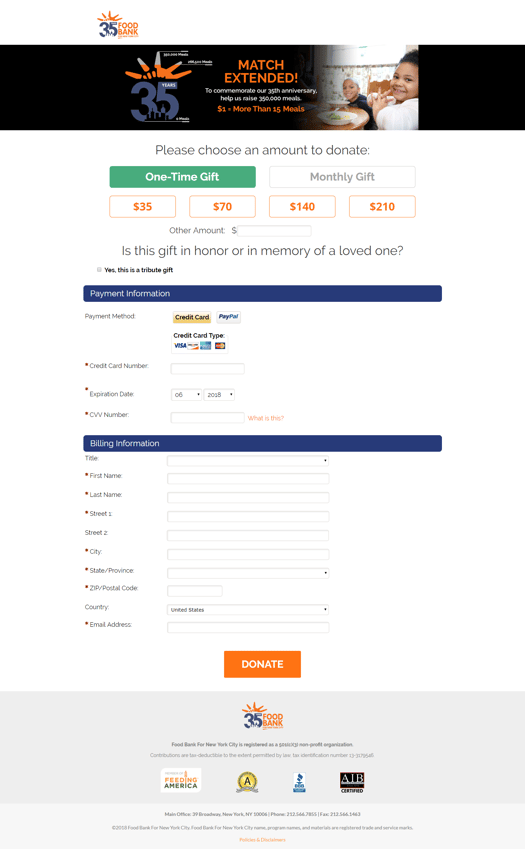 Donate to Food Bank for New York City
9 - Student Conservation Association
Best practices are just guidelines, and this page design breaks guideline #5. Our Donation Form Best Practices blog tells you to include only 3-4 gift amounts on your design. Student Conservation Association tested in to the use of six gift amounts—and who are we to argue with a good ol' fashioned A/B donation page test. When it comes to designing donation forms, emails, or webpages, feel free to test different variables to find what works for you. You may find success in breaking away from best practices.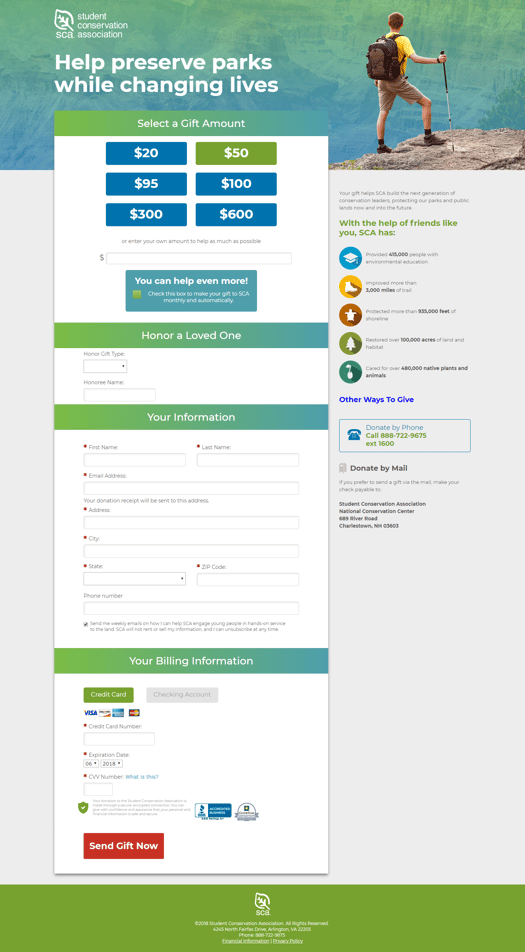 Donate to Student Conservation Association
10 – American Kidney Fund
American Kidney Fund really drove visibility to a point. Every engagement tool on this page is large, colorful and easy to click and the required fields sections are short. This is how you build interaction and convenience for your donors. This page probably takes one minute to fill out, which is the aim. It's hard to miss anything or feel confused about this page. There was no unnecessary information needed to complete this transaction.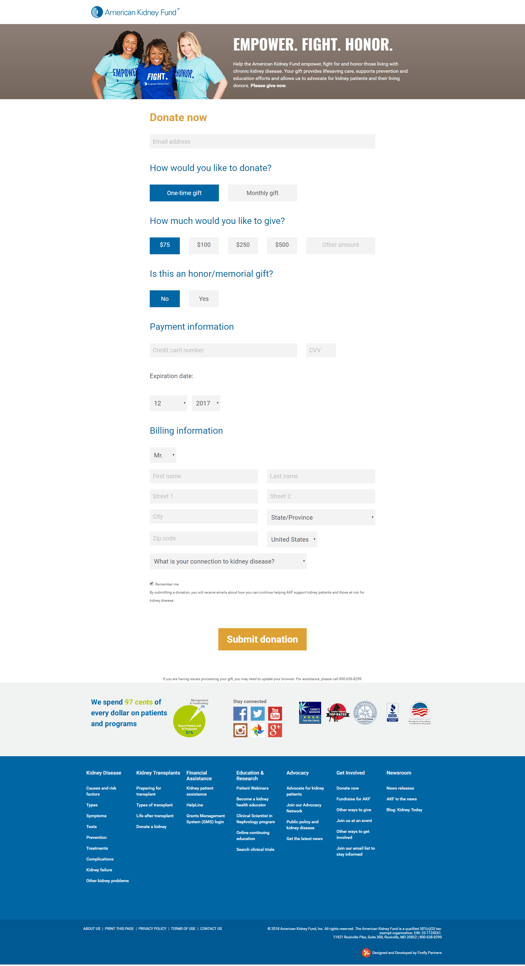 Donate to American Kidney Fund
11 – Gleaners Community Food Bank
You may have noticed that donation pages can run a bit long. It happens! We've included this design because of its 2-column design. Typically, billing information falls to the bottom of the form, but Gleaners has moved it to the right-hand side of this page. This keeps the length of the page nice and short. Again, this could be another solution for form abandonment. Users don't have to scroll as far to get to that super important submit button.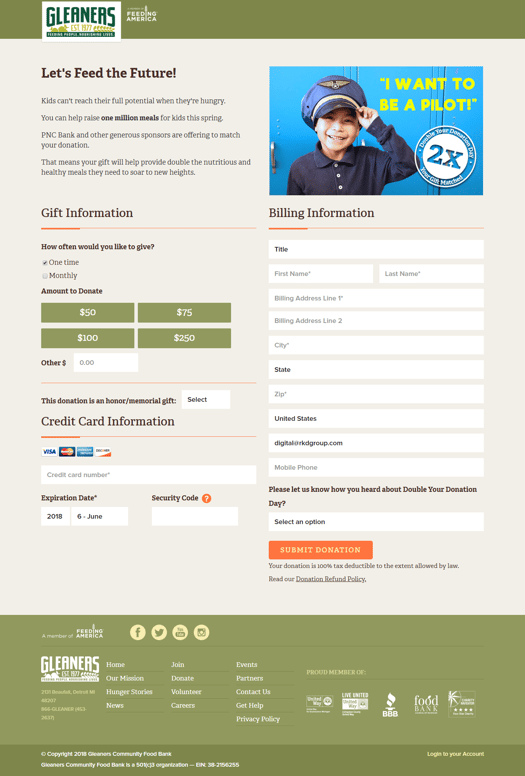 Donate to Gleaners Community Food Bank
12 – Houston Food Bank
The Houston Food Bank is the largest Feeding America food bank in the U.S. They understand fundraising best practices, and know how to drive donations.
We included this design because it's a great example of simplicity being successful. This donation page meets all the standards of donation form best practices. A simple, clean design, a short form with only the essential fields, minimal and reinforcing copy and an easy to find submit button.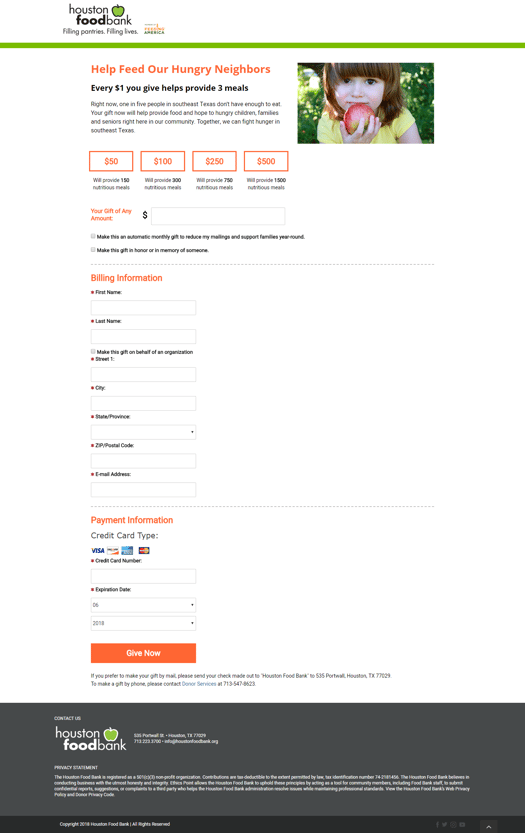 Donate to Houston Food Bank of Texas