As we close out another year of fundraising, I can't help but reflect on the power of dedicated giving seasons for nonprofit organizations. Over the last decade, giving days like GivingTuesday and giving seasons like year-end have grown exponentially, helping nonprofits give their donors a reason to support their cause.
But just because post-Thanksgiving is the most traditional charitable giving season, doesn't mean it has to be the only giving season your organization celebrates.
What's a giving season?
Just like a giving day, a giving season provides donors with a reason to donate. A giving season can be any time of year your organization wants to spur donations to support your mission.
Don't get me wrong, year-end is and always will be an important giving season. But creating an additional season for your organization allows you to capitalize off less noise and competition, and bring in much needed revenue to sustain your cause during a different time of year.
It's important to remember that a giving season goes beyond just a single day. Although a giving season can feature a single match campaign, the beauty is that it provides your organization with an opportunity to build an omnichannel message across a longer period of time.
If done right, year after year, your giving season can become a powerful time for your donors to rally behind your mission.
What could this look like for your organization? Let's talk through three examples of giving seasons.
1. Holidays
Holidays are a great opportunity to build a campaign around a moment in time. The holiday could be directly tied to your mission—like a healthcare organization during Breast Cancer Awareness Month—or it could just be something you choose to help guide your messaging.
Our partner Lurie Children's Hospital did just this for Valentine's Day, running a multi-week lead generation and acquisition campaign that allowed donors to send eCards to kids in the hospital. Taking advantage of the message of love during this time of year, Lurie Children's Hospital was able to give donors a unique reason to support their cause.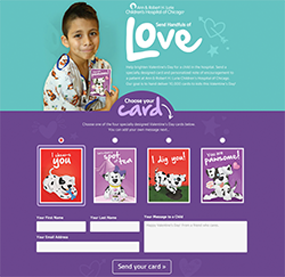 2. Weather
Whether it's hurricane season, wildfire season, summer heat or severe winter temperatures, weather impacts local and regional organizations across the nation during different times of year. While you can't predict when exactly natural disasters or severe temperatures will strike, you can build giving campaigns surrounding the typical seasons weather impacts your region.
For many of our food bank partners, each winter marks the start of a 'Heat or Eat' giving season that focuses on raising money so families don't have to choose between heat or putting food on the table. This gives donors a clear call to action to support their local food bank and has become a campaign that many look out for each year.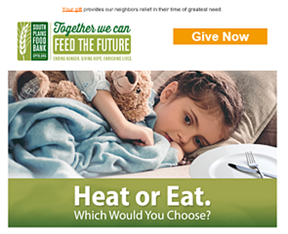 Similarly, one of our rescue mission clients also has a giving season focused on winter weather, called "Shelter from the Storm." This is a great example of how nonprofits with different missions are approaching the same giving season concept.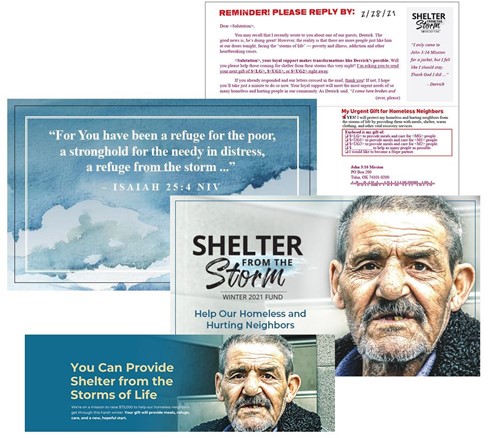 3. Specific to your cause
If you don't want to focus on the holidays or the weather, you can still create a giving season surrounding the people or animals your organization is dedicated to helping.
Many higher education organizations have begun hosting annual giving days, weeks or months to raise funds for different projects on their campus. The University of South Florida Foundation is a perfect example, hosting an annual USF Giving Week that allows donors to pick student projects to fund.
Not only does this week help raise much needed dollars, it also educates donors on the many different things their student body is doing throughout the year.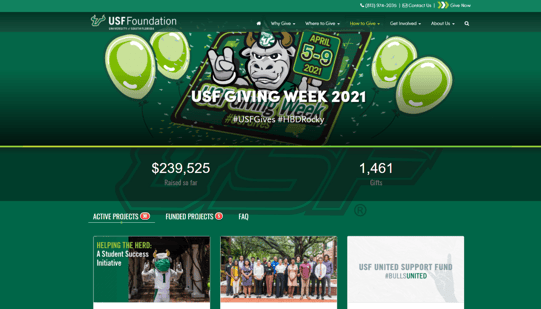 Creating seasons for your donors to rally behind your organization will only help further your mission. While these are just three examples to get you started, a giving season can be any period of time that gives donors a reason to support you when nothing else may be going on.
Is a giving season too much to tackle right now? Try adding in a giving day! Read our blog on creating your own giving day for a few of our favorite tips.